The FTD case in Netherlands keeps getting uglier.
The original case was weird enough – that a judge would pass verdict against a mere forum, saying that discussing file names is legally the same thing as publishing the files behind the names and therefore committing copyright infringement. The forum FTD was therefore ordered shut down by judge Chris Hensen in what was the weirdest precedent yet in the case series of Copyright Dinosaurs vs. Reality.
Now, however, news have surfaced that show that the judge was corrupt and the case all but predecided. It turns out that the lawyer for the copyright lobby, Dirk Visser (who has previously represented the infamous BREIN against Mininova), is actively running an anti-piracy business together with the judge. The following brochure for an expensive course, taking place just one week after the FTD case, was published by the Embedded Citizen today: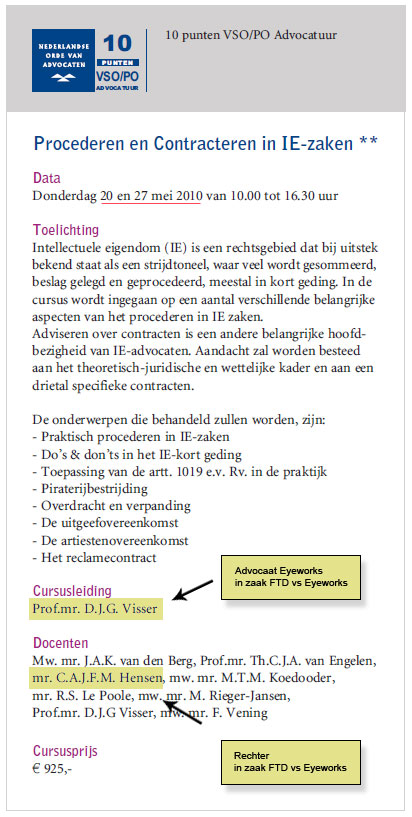 So not only were the judge and the Lobby's lawyer personally acquainted, they actually work together and are financially dependent on strong copyright in a common business. If there ever was corruption in a court case… I can't think of anything making it worse short of the Lobby lawyer actually paying the judge during the trial (instead of one week later).
This is probably the worst case of court case corruption I have ever seen, but it is still not surprising. There is no low the copyright lobby won't sink to, and Dutch BREIN are among the worst of them all, together with Danish APG.