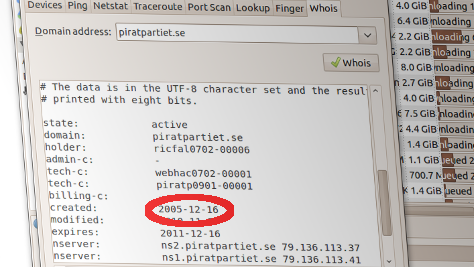 Five years ago, I toyed with the idea of setting up a political party for driving better (read "sensible") information policies. The idea had been growing on me since summer, but on this particular day five years ago, I purchased a domain name, planning to set up a prototype website over the holidays.
The site came online on January 1, 2006, at 20:30 CET, which is considered the founding time of the first Pirate Party. (This event will undoubtedly call for more recognition than the registration of a domain name, but still.) Over the next two days, the prototype site (ugly as unbelievable) got three million hits. That's not bad in a country with a population of nine million.
Fast forward five years, and the party has two seats in the European Parliament. It has also inspired activists in other countries to politicize the same issues, and sister parties have been formed in 46 more countries, from Kazhakstan in the east to Mexico in the west, all named "The Pirate Party" in their local language.
We're approaching something that might be characterized as the end of the beginning. Pirate Parties are growing everywhere. The high score in elections to national parliaments is not currently held by the Swedish Piratpartiet, but by the German Piratenpartei. That, too, is a sign of the internationalization of the movement and how it is growing out of its cradle.