So after much hubbub, Google launched its fourth attempt at social networking, after the fails of Buzz, Wave, and Orkut. As invites to the semi-closed trial were being screamed for all over the net yesterday, I started to play with it, and have three lasting impressions. My takeaway: Google has just leapfrogged Facebook by ten years.
We're all used to seeing an activity stream from our friends by now. While the concept of an activity stream was Facebook's "aha!" moment for me — as I realized that the cost of keeping in touch with hundreds of people had just shrunk dramatically — it's old news at this point. I had been looking forward to Diaspora, which promised to do two things:
1) Decentralize social networking. Just like with mail, you would be in control of your data. (Facebook is generally seen as evil — not Sony evil, but still evil.)
2) Put more focus onto the different roles you play in your life (as in when you interact with family, friends, colleagues, professional connections, etc). Diaspora called this aspects.
It seems Google has done a near-perfect job of the latter, and nobody really cares about the first, as long as Google stays reasonably good. (But that's a big as long as.) For now, this attitude from Google is a major promise: "For any who wish to leave, please remember you can always exit and take your data with you by using Google Takeout. It's your data, your relationships, your identity." That's miles and eons from Facebook's attitude towards its community.
But Google's accomplishments go way, way beyond playing catchup with current ideas. The real innovation is in the social interaction. Google has hit a moving target several years in the future.
There are three things that strike me as I toy around with Google Plus.
One: The Interface. This is by far the most important epiphany. I didn't realize it until I tried Google Plus, but Facebook — and pretty much every other web application — is completely adapted for using from a stationary computer with a mouse and keyboard, or possibly a laptop. That makes sense in its time; Facebook came onstage for real some time 2006.
The contrast is striking and stunning as you toy around with Google Plus and everything is manipulated using symbols that you drag around on screen for real-time interactions and very few buttons. The interface is slick, intuitive and unlike anything on Facebook.
This is for tablets.
Yup: this is tablets. In large and small form factors, from phone to pad. Connected, mobile tablets. Google is not building this for 2008, it's being built to hit a moving target in 2013. We're coming there quickly. In contrast, Facebook already feels old with its keyboard-based entry fields everywhere.
I mean, have you seen Facebook on Android or iPhone? It is so obviously not made for that kind of interface. I practically refuse to use Facebook on my mobile because it's, well, unusable. One year from now, what kind of devices do you see people using in cafés and other informal workplaces? It's not going to be the Alienware Area-51 Ultimate Desktop. There's the uptake for you already, right there. Remember how Myspace became unusable?
Two: It's Already Operational. One hard thing can be bootstrapping a new social network. I was genuinely surprised to see a stream full of activity practically as I went into G+. Again, it contrasts wildly with both Facebook and Twitter, which took me a month or so to get going and useful. Now, I have no idea how this happened, but my stream is already full of my friends' activities, despite G+ officially being in beta, closed, invite-only, and whatever. It has become an overnight drop-in replacement for Facebook for me.
Three: Synchronous planning. What Google appears to have really nailed is group video chat, what they call "hangouts". This is a far cry from Wave's stationary-based "multiplayer notepad", and rather, it is what Hollywood sci-fi flicks have looked like for the past twenty years when people are in meetings. Except it's on your Android tablet or phone, and not in a movie. This looks like a piece of the social puzzle we've been missing for quite a while.
Fourth and last: Facebook has been mistreating its community for years and getting away with it because there simply wasn't any alternative, and the latest XKCD sums it up well: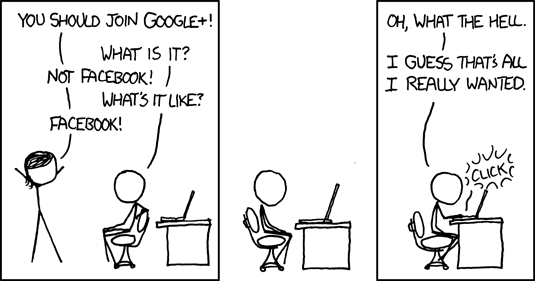 Of course, time will tell, but I haven't seen this strong a promise in a very long time, and my first "aha!" experiences were far stronger than those with both Facebook and Twitter.
UPDATE: Added Google Orkut to the list of failed attempts. Thanks, @mmasnick.