I have not slept this night. Yesterday's events in Oslo and Utøya have had me shaking my head in disbelief from last eve till sunrise. It is only a few years since I was attending a very similar camp.
When I was a teenager, I was active in one of the major political youth wings in Sweden. At our annual meeting with 500 people, I thought to myself, that if you wanted to kill this entire party, this would be the place to do it. Take out the entire next generation of leaders in the party at all levels.
Twenty years later, it appears that somebody in Norway held enough hatred for a political party to actually do exactly that. The amount to which this massacre was orchestrated and meticulously planned is breathtaking. The emotionlessness with which it was carried out is mindboggling.
Yesterday afternoon, there were news of a bomb gone off in central Oslo. The target was unclear, the perpetrator was unclear, the motive was unclear. But it caused the nation's entire police force to converge on Oslo.
Later, we heard something about a shooting on an island. It appeared to be of much smaller scale, with the Oslo bomb still being the main focusworthy event.
In retrospect, that appears to have cynically been the intent, to divert police resources from the real target: 500-700 teenagers. The killer appears to have been intent on killing the entire next generation of leaders in the Workers' Party, and a likely motive would be to harm that party's regrowth. (My guess. The whole thing is meticulously planned; this was not random.)
The patience and emotionlessness here is staggering. Killing as many teenagers in the party as possible, to prevent them from becoming leaders in 20-25 years and leaving a generational gap in the party that it might not survive politically — an action that won't have a real political effect for 20 years? What kind of psychopath has that kind of forward-thinking planning?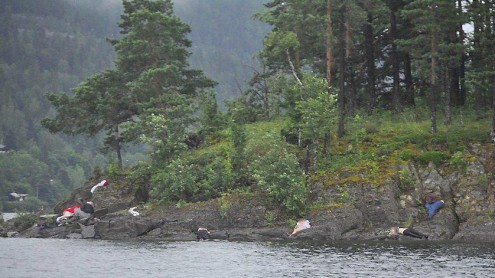 On reviewing what we know so far, the attention to detail is scary.
There is a Facebook profile and a Twitter profile for the (alleged and suspected) killer. They are both, for lack of a better word, picture perfect. They are not your ordinary accounts; rather, they are messages intended to be found, with photos that put the killer in good looks. They are even prepared for media.
Not a trace of any friends, connections, or even conversations. Just some photos and political beliefs.
They were meant to be found.
Next — who is so cold that they put a huge bomb in a European capital as a diversion?
Once on Utøya, who can be so cold that he calls teenagers over one by one on a small island, while dressed in a police uniform, just to shoot them in cold blood?
The current death toll on Utøya is 80, and police expect it to rise. Teenagers. Eighty defenseless teenagers, trapped on an island.
Executed in cold blood, as a possible political strategy to cripple a political party decades in the future.
I have no words.
Other bloggers: Opassande, Anna Troberg, Emanuel Karlsten, Hans Egnell and dozens of others.
(Disclaimer: the images were found in the discussion thread on Reddit, hosted on an image sharing site. If you claim copyright monopoly on any of them, let me know.)