Reality sometimes does exceed fiction. Three days ahead of the elections in North Rhine-Westphalia, Germany's most populous state, the Piratenpartei's website has been discovered to be censored in schools. These state-run institutions do not allow people – voters – to read what policies the challenger party stands for.
Specifically, it is the election program of the German Pirate Party that is being actively censored in schools, under the category "illegal drugs". It is no secret that the German Pirate Party wants to change the law to regulate, rather than prohibit, cannabis. Apparently, expressing a desire to change the law is seen as just as dangerous as breaking the law – just questioning the current policy: enough to suppress freedom of speech in the state-run schools.
It should be noted that the Piratenpartei is currently polling at levels that would give the party 8-10% of the seats in the state parliament, so the challenge is real and the challenger is expected to win seats in the elections this Sunday. It is far from a nonsense minority party; rather, it currently has a lot of the media spotlight.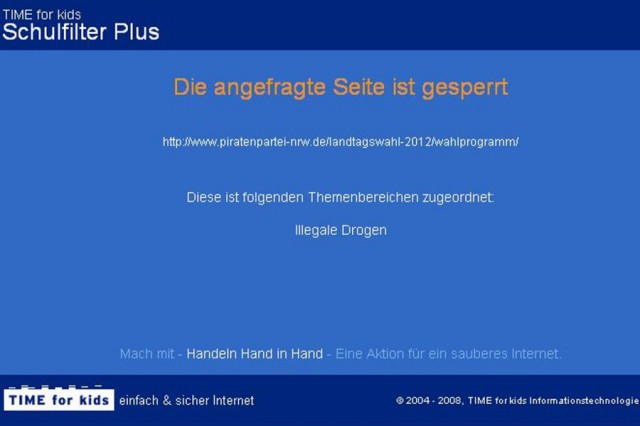 The censorship was first discovered by Kai Schmalenbach, who posted a "website censored" screenshot when trying to access the election program in a school in the city of Soest.
The censorship being used in schools is called Schulfilter Plus ("School Filter Plus"), who, according to Netzpolitik, washes their hands and say that they just use another censorship list from IBM, which they claim "has a good reputation". Assuming this censorship is revoked immediately, which we don't know, officials claim it may take as much as 24 hours before voters may again see what the challenger party stands for. At such a point in time, it would be less than 48 hours before the election stations open on Sunday morning.
If this is not a demonstration of the utter rejectability of censorship and why it should never be allowed under any circumstance, as events like this will happen, I don't know what would be the necessary demonstration.
The Swedish Pirate Party had a similar episode in the run-up to the 2006 elections, when the Swedish Pirate Party's website was censored on August 23 from all public offices in Västra Götaland, one of Sweden's largest regions. (The election was held on September 17.) After a media outcry, and the responsible IT people essentially saying "we have delegated this censorship to corporations in the United States, so we cannot be held responsible", the censorship was lifted.
Via Netzpolitik (in German).