Here is useful footage and photos from the Pirate Party's election win in North Rhine-Westphalia. Free for any use.
All media here is public domain / CC-zero: any and all remix, cutting, republication and broadcast is not just permitted but explicitly encouraged. The whole point of supplying the world with this media is to make it easier to create stories about the Pirate Party, after all.
Photos and video were taken on Sunday May 13, at or around 18:00, at Zakk on Fichtelstrasse 40 in Düsseldorf.
First, here is some useful video footage of when the exit polls are presented. There are several good shots here – the countdown at 00:17, the exit poll results at 00:52, and some onward cheering later afterwards. This video is beautiful in full 1080p HD.
[youtube Z444pAacUbE]
Some of the photos in the photoset from the party afterwards are just too good: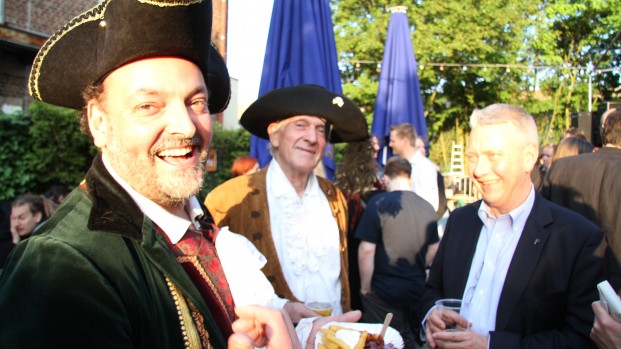 Check the full photoset at Flickr – both people cheering and general atmosphere photos. Free for any use, misuse, abuse, reuse or refuse.
Also check Christian Engström's collection of more photos, also CC0 / public domain, which are likewise free for any use, reuse and misuse.