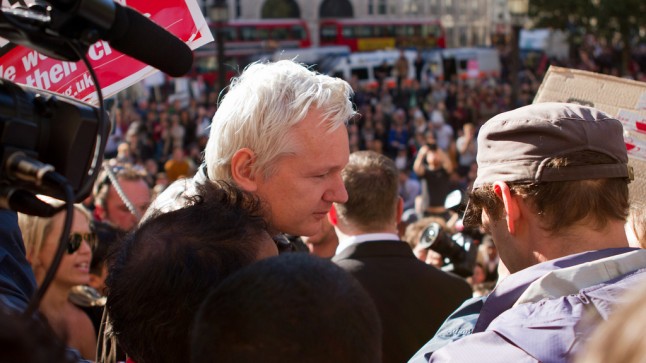 Swedish Cabinet Can Now Give Assange Anti-Extradition Guarantees. Why Don't They?
28
Process of Law – Henrik Alexandersson
Process of Law – Henrik Alexandersson
When it comes to the extradition to Sweden of Julian Assange, the founder of WikiLeaks, the heels of prestige have dug shoulder-deep trenches. The Brits have agreed to extradite him, in accordance with the European Arrest Warrant. Ecuador has granted him political asylum – and since then, he's stuck on their embassy in London, without being able to leave the building.
Assange fears that Sweden will extradite him onward to the United States if he's sent to Sweden. And he may have good reasons to fear the administration of the United States, after having unveiled quite a lot of things that the Americans would rather have kept secret.
It can be argued that the risk of being sent to the US is just as large in the UK as in Sweden, maybe even larger. But let's focus on Sweden: here, the prosecution of Assange remains a politically infected wound.
The Swedish Administration contends that it neither can nor may give any guarantees against further extradition. The reason for this position is that politicians in the executive branch of government are not allowed to interfere with individual court cases in the judicial branch of government – which is an extraordinarily wise principle.
However, we need to ask ourselves whether this principle is relevant in this particular case. It was recently discovered that the United States Government (or at least the US Military) regards Julian Assange as an "enemy of the state". And if he can be branded an enemy combatant (even if only armed with his freedom of speech), then it is obvious that he risks torture and maybe even the death penalty if extradited to the United States.
Since Sweden is under formal obligation to not send anybody to a country where they risk torture or capital punishment, with these new facts in hand, there is a perfectly bureaucratically correct and legally untouchable possibility for Sweden to give Julian Assange unambiguous guarantees against further extradition to the United States.
So what's preventing it from happening?
One possible reason could be that Sweden actually wants to send Assange to the US. But that doesn't appear very plausible. Besides, Sweden would be violating the international conventions mentioned above. It's also quite certain that the Administration understands what a Shitstorm From Hell they'd unleash if they even considered putting Assange on a CIA Rendition Airlines flight at Stockholm-Bromma Airport.
More likely, this is about political prestige. The Swedish Prime Minister, Fredrik Reinfeldt, has had a media war with Assange about the credibility of the Swedish justice system – and Reinfeldt can be one heck of a grumpy old man. To him, Assange is an enemy. Therefore, the problem arguably lies with the mindset of the Cabinet and the Prime Minister.
If Reinfeldt wants to prove himself to be the elder statesman he so intensely desires to appear as, he should let go of the prestige, take the symbolic political losses, and give Assange formal guarantees against extradition to the United States.
But as everybody who has studied Reinfeldt knows, this is hardly something that's going to happen. That doesn't change the fact that the ball (or, in any case, one of the many balls in this mess) lies squarely with the Swedish Cabinet.
This article was originally published in Swedish on Nyheter24, titled "Ditch the Prestige, Reinfeldt!". Translated into English by Rick Falkvinge.