This Monday, the Russian Government placed a Russian Wikipedia clone on a censorship blacklist. The Russian Government maintains such a kill switch for "harmful sites" – motivated with protecting children from drug use, child porn, or suicide methods. In reality, as usual, give anybody such a switch and they'll shut off things they plain don't like.
The Russian Wikipedia clone Lurkomore (Луркоморье) has long been a Wikipedia-on-steroids in Russia. With the notability requirement for articles relaxed, Lurkomore had become an "encyclopedia of contemporary culture, folklore, and subcultures, as well as everything else".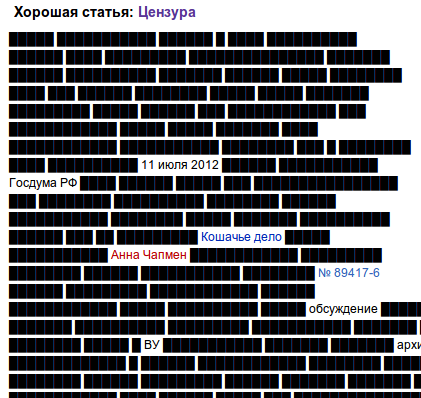 As reported by Russian news site Lenta, the site went gradually offline in the evening of November 11. The Russian government can ban any website without warning for promotion of drug use, child porn, or suicide. In this case, it was the Russian anti-drug agency who took the entire encyclopedia – the entire encyclopedia – offline in the name of "protecting children".
(In case you're wondering, this is textbook censorship. Not the name-calling kind; the literal kind where a government prevents publication of information between consenting parties.)
Previously, the entire Russian version of Uncyclopedia was similarly censored for its humorous satire article named How to commit suicide ("Suicide is illegal in most countries. People have recently been arguing for the death penalty as the punishment for committing suicide.") The article was later removed.
The Lurkomore site has since moved to another IP address, bypassing the IP blacklist completely.
Hat tip to @sult.