The profit margin for the telecom industry on mobile data roaming is in excess of one million per cent. On healthy and functioning markets, the profit margins typically range between five and ten percent. This is an in-your-face example of free market failure.
Following yesterday's article about telco voice services being overpriced by five magnitudes – that is, a factor of 100,000 – according to a report published by the OECD, it is appropriate that we look at other services provided by that industry. Today, we look at data roaming.
The cost of providing one gigabyte of traffic over-the-air is just under one euro, according to several independent sources. However, the telco industry charges about 14 euros per megabyte when roaming in the state next door. That's a 1,400,000% profit margin – and a complete failure of the free market to make the end price converge with the production costs, due to the oligopolistic nature of the industry.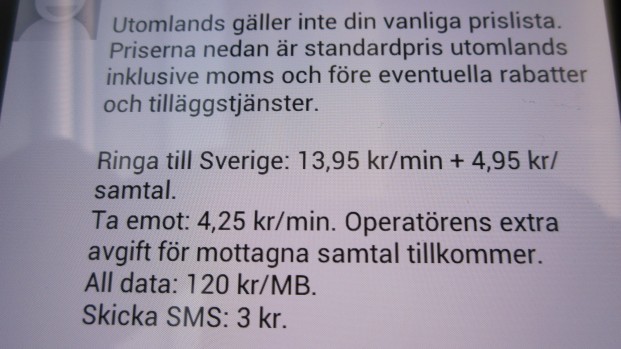 On a functioning market, such as grocery retail, profit margins typically stabilize in the 5-10% range with competition. These numbers are an obvious sign that the telco market is severely dysfunctional.
But it's worse from a public-interest standpoint than just being any random nonfunctioning market. The lack of roaming data inhibits Europe's entrepreneurship and free movement of jobs, people, and business. If you can't maintain connectivity, you can't maintain productivity. Again, we see how the telco industry is actively inhibiting the overall economic growth of Europe's industries in order to protect itself and its own interests.
That is not in the public interest.
(The obvious retort to these numbers would be that the one-euro-per-gigabyte number only would include the actual transmission, once the investments in radio towers and other infrastructure are made. That would be a false claim; those investments are included in the one-euro-per-gig number over-the-air. To compare, the cost of one gigabyte of traffic over the wire is much less than a cent – in most places in Europe, you can get two terabytes of traffic and a server for five euros, coming to a per-gigabyte cost of 0.25 cents over-the-wire – including a rented server with that price, so the traffic itself is actually much, much cheaper.)
The European Union has regulated data roaming within its member states to have a maximum price of 700 euros per gigabyte today, coming down to 200 euros per gig in mid-2014. Assuming the price of traffic to keep falling proportionately, the European Union regulation still allows for a 70,000% profit margin – which is exactly the level the wireless operators are now pricing at within the union, all while keeping their million-plus-percent profit margin to neighboring states like Switzerland and Norway.
This is a ridiculously nonfunctioning market that needs much tougher regulation, and/or competitive incentives for new and disruptive actors outside the telco industry. A suggested maximum profit margin for regulations would be 1,000% – if you can't maintain a business at that profit level, you shouldn't get to run a business. That would mean a price cap regulation of 10 euros per gigabyte today (instead of the current 700). But we'd far prefer a rollout of municipal free wi-fi to encourage European growth and innovation; after all, we take streetlighting completely for granted today, which is much more expensive than the equivalent wi-fi coverage.
Next in series: Telcos charge more for sending a text message next door than the cost of sending the same message from Mars.