Yesterday, news broke that the Expensify service has enabled bitcoin payments. With the rapidly expanding number of businesses accepting bitcoin as payment method, one could think that this was merely another player in the pool of bitcoin's expanding economy (which just broke the one-billion-USD barrier, by the way). But Expensify is something much more than that.
Let's first discuss the concept of expense reports to understand Expensify's important role in the subsurface payments ecosystem. On all companies I've worked for lately, you don't ask the company to buy something you need for your work – it's just too much paperwork, too much red tape to make it happen. Instead, you get a small budget for discretionary stuff you need to do your job, and you just buy stuff as you need it with your private credit card, send in the receipts to your employer, and get reimbursed on the next paycheck, which arrives before the credit card bill is due.
This system is pervasive and ubiquitous. Sending in receipts for payment like this is known as submitting an expense report. It's still bureaucracy and red tape and it still sucks, but it sucks considerably less than asking for approval in advance.
Enter Expensify, a service that markets itself straightforwardly as "Expense reports that don't suck". I've been using Expensify through its development for the past couple of years and have also contributed my use case (frequent travel outside of internet coverage), which led them to implement important new features – meaning, they're a responsive bunch, too.
I don't know anybody who submits expense reports who doesn't use Expensify.
They have reduced the hassle from spreadsheets and forms and manual calculations down to using your phone to shooting the receipt you get as you get it, then throwing it away, forgetting about the whole deal until it's time to press the button marked "reimburse me", at which point that happens. Expensify saves me and people similar to me – to use a technical term – a metric fuckton of paperwork and boredom.
What this means is that Expensify is deeply integrated into the existing payments workflow at many workplaces, mine included.
As of yesterday, Expensify added a new checkbox when summarizing photographed receipts and submitting them for reimbursement: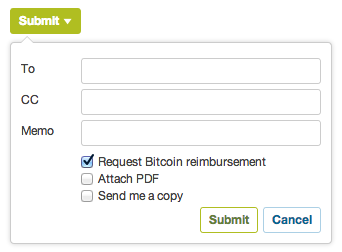 This is a big deal because it means that the payment processing departments of corporations are going to get a lot of requests for bitcoin payment within their existing payment workflow. It's going to be presented – and regarded – as just another payments method alongside SWIFT, bank wire, Paypal, cash, and bank check.
Up until today, bitcoin has spread by mutual agreement between payer and payee, and to some lesser extent, by the profit pressure generated in retail from the lack of credit card processing fees. But with Expensify adding it as a payment option in a lot of companies' existing workflows, enabling people to request payment in bitcoin in addition to bank wire and paypal, there is unilateral social pressure within an existing payments structure for the payer to use Bitcoin. This is new. Plus, the fact that the payments structure in question is bloody everywhere – especially as it's subsurface (below the corporate level), so it changes much quicker.
Expensify adding bitcoin to its workflow gives bitcoin social virality and social, directed pressure for corporate uptake.
I'm very much looking forward to see statistics from Expensify in bitcoin use, but I expect that bitcoin pressure won't come from the reimbursement departments, but rather from workers who request reimbursement in bitcoin (as per the image above) – particularly when being paid internationally.
To quote a tweet from yesterday: I love the fact that a geek experiment in decentralized, anonymous payments is now worth one billion USD and has come to compete with national currencies.