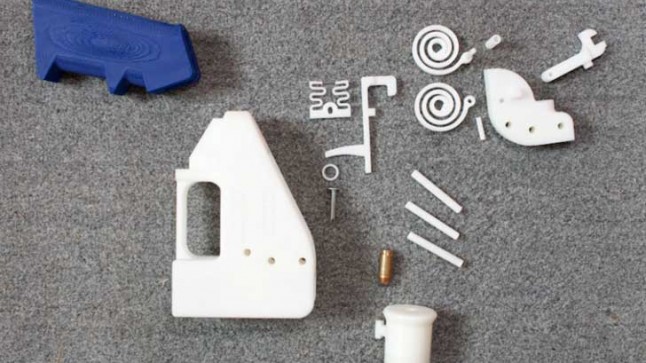 United States Government Shows The World It Doesn't Understand The Internet, Claims "Ownership" Of Specific Files
39
The United States Department of Defense has "claimed ownership" of CAD drawings of a plastic, printable pistol. In doing so, they apparently believe they can stop the files from existing. The result is obviously the complete opposite, which calls into strong question the judgment and ability of United States Government to set Internet policy at all.
When the public received the means of production through 3D printing, it was obvious that you could no longer regulate which objects were allowed to exist and which didn't, just as you can no longer regulate distribution of information. Well, obvious to anybody but bureaucrats in governments who insist they cannot lose any control.
The think tank Defense Distributed has been developing 3D printer drawings for weapons parts for some time. First, they published drawings for vital parts for the AR-15 rifle (the civilian version of the military Armalite M-16) which could be printed by anybody in their homes, and then moved on to creating an all-plastic weapon which could be printed by anybody without dependence on other manufacturers, the "Liberator" in 17 parts.
This was not a matter of breaking the law of weapons regulations – this was a matter of the law having become unenforceable and obsolete through advancements in technology.
Late yesterday, the United States' Department of Defense contacted Defense Distributed and told them that the United States government were seizing the drawings and claimed ownership of the files. This move was utterly ridiculous, as the drawings had already been published. The immediate effect was that Defense Distributed complied, and everybody else started seeding the files like wildfire. This is cause for concern – not the fact that the files exist, but that the US Government can be so completely boneheaded to think they can prevent information from existing by saying so.
The pistol drawings exist in the form of a magnet link which picks the file from whoever has them, with no central repository. The other files from Defense Distributed have also been censored by the United States government, which contain vital (printable) parts for an AR-15 and similar things, but these files are similarly available through a simple link. Predictably, their distribution has gone absolutely stratospheric.
We have long seen how the US Government is completely boneheaded and unfit to set and shape Internet policy, due to their simply not understanding of what the Internet is and how it works. This episode underscores that conclusion strongly.
Part of the reason the US doesn't understand the Internet is because of the country's vastly substandard infrastructure, since they have allowed cable companies and telcos to dictate what the Internet should look like (and the US is therefore far, far behind countries like Romania and Lithuania – countries that were considered near-developing countries 20 years ago, a timeframe that policymakers in Washington are apparently stuck in. We'll be returning to that in a separate article.)
In any case, this episode shows that the US government is simply unfit to even have an opinion on shaping the future Internet.
You've read the whole article. Why not subscribe to the
RSS flow
using your favorite reader, or even have articles delivered
by mail
?
TRANSLATIONS AVAILABLE
This article is also available in other languages:
Italian
.