Well, this is a new one. Swedish Public Television just posted legal terms and conditions as to what they are allowed to do when others are posting sports photos from the Winter Games in Sochi on Twitter. In terms of the worst copyright monopoly bullshit I've seen, this ranks pretty high.
Swedish Public Television, SVT – funded with public money – just posted a long page of legalese detailing all the publication rights they have when somebody posts photos from the Sotji winter games under a specific hashtag. There's only one problem: it's complete bullshit. They don't get a shred of publication right, neither because somebody posts photos on Twitter, nor because they assert they have the rights to publish under copyright monopoly law.
As that page can be predicted to be removed, here's documentation of the full image of the published webpage with asserted "terms and conditions". (For the legally inclined, I have a formal journalistic license – utgivningsbevis – and this is proper reporting on abuse of power by powerholders.)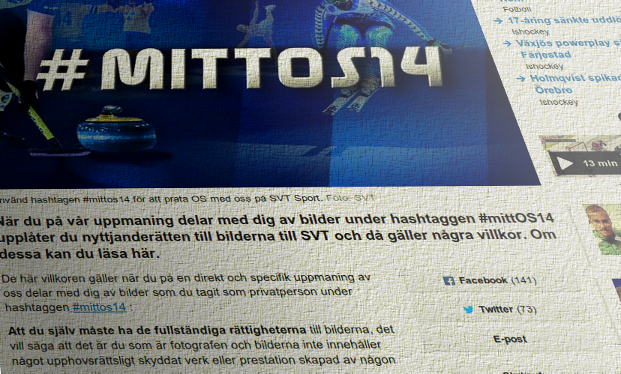 The "terms and conditions" posted read, in full:
When you post images under the hashtag #mittOS14 [Ed note: translates to "My olympic games '14"] in a response to our call, you give publication rights to SVT, and therefore, some terms and conditions apply. You can read about them here.

These terms and conditions apply when you, in response to a direct and specific call from us, share images you've taken as a private individual under the hashtag #mittos14:

You must have the complete rights to the images, that is, you're the photographer and the images don't contain any work protected by copyright or an achievement created/performed by somebody else. [Ed note: this is a rather odd condition for a sports photo, anyway, considering they typically depict achievements by somebody else]

That SVT has the right to use the images (within the boundaries for SVT's operations, that is in TV shows, on svt.se, and on other platforms where people can take part of SVT's offerings).

That SVT, in preparation for such use, may crop and edit the images without your permission.

That SVT's usage rights extend in perpetuity.

That you accept that you're not entitled to any compensation for the grant of publication rights.

If we, from the above terms and conditions, publish an image that you shared under #mittos14, it shall be made clear who took the photograph.
This is one of the worst heaps of copyright monopoly bullshit I've seen in a long time, and I've seen a lot of it as an activist. The Swedish Public Television – which prides itself on being by the people, for the people, independent of the government (which is mostly a complete fabrication, but frequently asserted anyway) – is out on very thin ice when they claim the rights to any and all images posted by somebody unknown to a third-party service under a specific hash tag.
The very thin layer of ice hangs on the clause "when you do this in a response to a direct and specific call from us", being able to possibly claim something like work for hire and therefore entering a contract. But obviously, there are a ton of different reasons somebody may post images on Twitter, and that doesn't relinquish their rights to those images, even if SVT would understandably like that to happen. The burden of proof for this superthin ice is on SVT in showing that a contract and agreement was mutually entered into, and that's absolutely impossible to prove – and SVT's legal team should definitely know this, especially given that they have had no contact with the party they've allegedly entered into a contract.
Further, the thin line hangs on the thread of the hashtag #mittos14, and SVT would have to argue that the only reason somebody would use that hashtag is because they had agreed to the terms and conditions. But that's almost the complete opposite from how hashtags work: we typically use hashtags because we see other people use them, or because we make them up on the spot. It would be totally natural for somebody to post photos just by seeing other people do so, so that argument is ridiculously weak.
When somebody posts images on Twitter, that doesn't give news agencies permission to use them at all. We have a legal precedent as to pretty much exactly this, when Agence France Presse tried to use a person's photo on Twitter, asserting exactly that they had usage rights because it was "posted on Twitter", and in the end, the verdict told AFP to pay $1.2 million in damages for that ridiculous stunt.
You never stop getting surprised – these are the organizations that fight the hardest to maintain the copyright monopoly, and then they attempt blatant abuses of it like this?
The ridiculous thing here isn't that SVT wants to reshare good images. We all do that, dozens every day, usually in violation of the copyright monopoly – but we're also highlighting how ridiculous the copyright monopoly is and working to change it through several parallel avenues of disruption. Here, the SVT is doing the exact opposite: they're defending the copyright monopoly, and pretending and asserting that this is how it works, that they're legally able to take anything they want and use it however they want merely by assertion. That would be comedy gold, if it weren't for the abusiveness of the law and the public by a major powerholder funded by the public.
UPDATE: Following an escalating and well-deserved shitstorm, it appears that the SVT is now (11:30 UTC) in uncontrolled panic-backpedal mode: the page with asserted so-called "legal terms and conditions" is changing almost on a minute-by-minute basis.