The Swedish Pirate Party's political work has been consistently ignored by Swedish media from our setting foot in the European Parliament in general, and in this election campaign in particular. After having been excluded from televised live debates three days ahead of voting despite being up for re-election to the European Parliament, we had a huge victory yesterday where the European Court of Justice made us right in what we had been saying all along about privacy. Swedish oldmedia responded with a story about the party leader's cat.
Yesterday, the European Court of Justice ruled the detested Data Retention Directive invalid. Retroactively invalid, even: the court ruled that it had never existed. The directive (a directive is sort of a federal law covering the EU) mandated all EU states to log all communications from all citizens: from whom, to whom, from where, using what method, and when. No communication would be unseen by the Government.
This wasn't for the usual organizedcrime-terrorism-pedophiles-filesharing mantra. This was for everybody, with the express purpose of using your communications logs against you. The Pirate Party was founded as a direct reaction to this blanket violation; we were quoted in 2006 saying "this is worse than Stasi" in a context depicting us as though we were talking complete rubbish and nonsense.
Yesterday, the European Court of Justice – the highest court of the world's largest economy – said the same thing in a historic verdict. The blanket violations are intolerable and inexcusable.
So in the past two weeks, the Swedish Pirate Party has had these amazing progresses and successes:
An amazing gathering of 300 pirates in Brussels, founding the European Pirate Party.
On April 3, the Pirate stance on Net Neutrality won in the European Parliament, something we've been fighting hard for against the European Commission, safeguarding the future of free enterprise in Europe.
The Swedish Pirate Party's European Election campaign kickoff on April 5.
Yesterday, April 8, the highest court of the world's largest economy saying we had been right the entire time with our "unconstructive" stance, pointing out that blanket violations of privacy are inexcusable.
On the day that the highest court in the largest economy on the planet says the same thing that the Pirate Party has been saying for almost a decade, while constantly being belittled by the powers that be, governmental oldmedia (SVT) finally writes about the Pirate Party. Bloody finally.
On the eve of this string of successes, when you expect a heavy political analysis of all the successes and an admission that there may have been some kernel of truth to the basic idea of privacy being fundamentally inviolable, they write a story about how the party leader was locked into her bathroom by her cat, and post it as a highlight on their election coverage ("Val 2014"). I wish I were joking.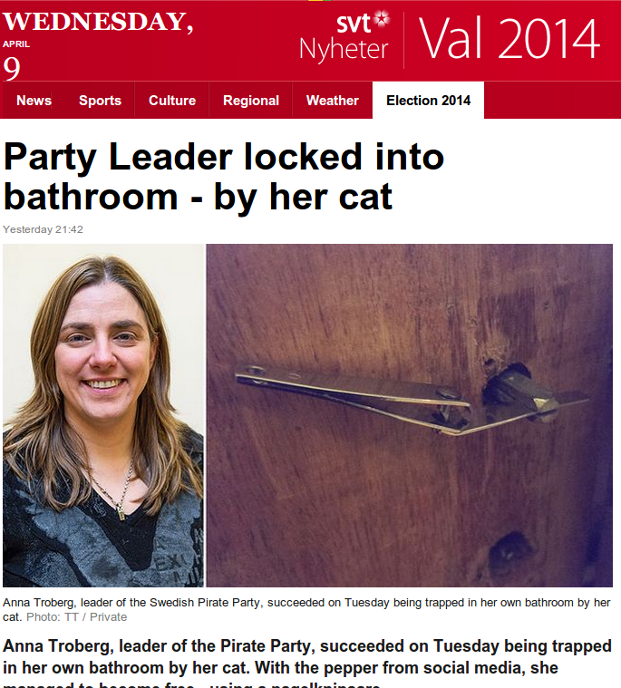 In the words of Calandrella, this is a facepalm, this is an eternal facepalm.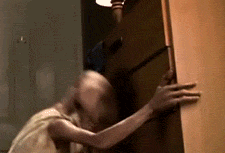 I've been frustrated by Swedish governmental media before, when I took actions that got headlines all over the world but not in Sweden. It was deemed newsworthy in Japan, China, Thailand, Greece, and elsewhere, but not in Sweden where it had actually happened. This final straw crosses the line. This is where it gets personal. I had had these plans loosely before, but this is where it gets official.
I pledge to outcompete this collection of bastard oldmedia and commit them to irrelevance over the coming years.
They've already committed themselves to irrelevance, as illustrated clearly by their own actions above. What I'm going to provide is an alternative that makes it clear how obsolete they are. I aim to have outcompeted European oldmedia for all intents and purposes in five years, with launch about a year from now (I'm in process of coding the infrastructure).
We're not supposed to have a governmental news station. The idea is repulsive. The fact that they're branding themselves as "independent", and that people hearing it actually believe that crap, turns into an unworthy Foxesque "fair and balanced" situation – but revoltingly funded by public money. It needs to go.
I've already demonstrated my ability to kick stale powerholders out of their jobs when they're underperforming. Watch me repeat that in a new field.