U izuzetnoj izjavi, fundamentalista kopirajt monopola Marielle Gallo – autorka ozloglašenog Gallo Izveštaja – kaže da su građani Evrope koji su učestvovali u kampanji protiv ACTA-e teroristi.
U tek objavljenom intervjuu (na francuskom), Marielle Gallo – članica Evropskog Parlamenta, ništa manje – naziva anti-ACTA kampanje "Blagim oblikom terorizma" (une forme douce de terrorisme). Da, ona zaista kaže da bi građani Evrope, njeni birači, koji kontaktiraju sa njenim kolegama u Parlamentu u vezi sa političkim pitanjima koja ih se tiču, trebalo da se smatraju teroristima.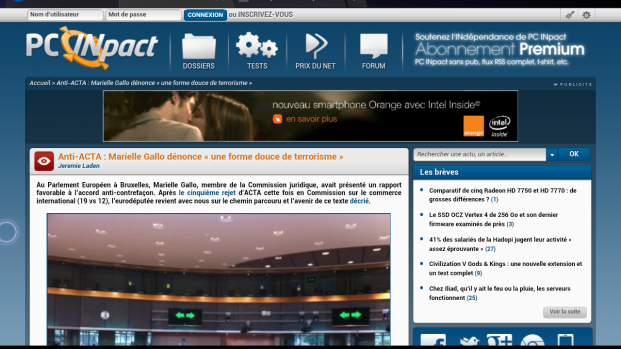 Ovo pokazuje par stvari.
Maksimalisti monopola su potpuno poludeli, ispali iz takta i izgubili vezu s realnošću. Nazivanje sopstvenih birača teroristima u medijima kada izražavaju drugačija politička mišljenja od tebe je više od političkog samoubistva, to je materijal za ludačku košulju.
Maksimalisti monopola drhte od straha da im se dogma ne dovede u pitanje, fasada ne zagrebe i da ne izgube kontrolu sa svog diskursa maksimizovanja monopola. Pored očiglednog dokaza da su izgubili razum, sada delaju u očaju i nemaju više jakih reči koje bi osudile njihove protivnike. (Reč "pirat" je nekako izgubila svoj osuđujući efekat kada su ljudi izabrani pod piratskim barjakom.)
Prema tome, klatno počinje da se vraća u pravom smeru. Razlog za očiglednu nelagodnost dogmatskih maksimalista do nivoa ovako smešnih izjava – za zapisnik, ne manje – može biti ništa drugo nego osećaj da im kontrola nad situacijom klizi između prstiju.
Sve u svemu, ovo je odličan znak. Nastavimo sa ovim oblikom "terorizma". Lično, ja to nazivam demokratijom na delu.
Izvan pobede nad ACTA-om, trebalo bi da iskoristimo priliku da preokrenemo trend i izrazimo svoje mišljenje da bi monopoli trebalo da budu razmontirani.
AŽURIRANO: Nekoliko ljudi je ukazalo na to da Gallo u ovom intervjuu takođe kaže da su članovi Evropskog Parlamenta oni koji bi trebalo da razmišljaju, a ne građani.
AŽURIRANO 2: Posebno, članica Evropskog Parlamenta Gallo je rekla: "Nije to samo pitanje dezinformacije. To je blagi oblik terorizma koji plaši ljude. Oni se boje. To je fantazija." Dakle, da, tvrdi da je različito mišljenje od njenog dezinformisanost i terorizam.