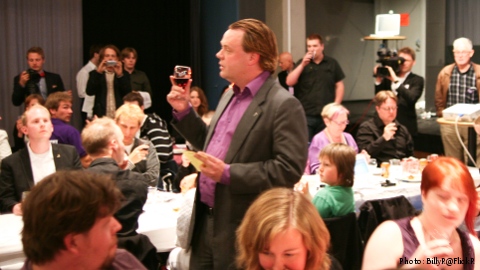 My fourth reason for moving on is that, given the opportunity, I would like to focus on doing what I love most. I love talking to people. I love our policies and our analysis of the new power landscape, fueled by information and control over information. I love to see people get that "aha" moment when they connect the dots for themselves in the field of information politics.
I have been given the opportunity to do just that, now that the time was right for handing the reins of the daily operations to a more-than-worthy successor.
During my five years as leader of the Swedish Pirate Party, I have given keynotes and taken part in panels in many parts of the world, in many different environments. Everything from friendly (the open-source convention OSCON) to downright hostile (a room full of record industry execs at a music convention).
Having prepared for this transition for a while, I have keynotes and seminars lined up throughout spring, at a rate of about one per week in the near future. The far planning horizon is currently at September, when I'm booked for a cultural policy event in Poland. I will also try to write guest columns in as many places I can muster, and plan on finishing a book before summer.
While traveling, it will also be my job to check the heartbeat of the local infopolicy debate and look for patterns in Europe, as well as build networks among pirate parties and other net activists.
It will probably not get any less intense than the job as party leader, but I'm going to enjoy this role immensely for the next couple years.