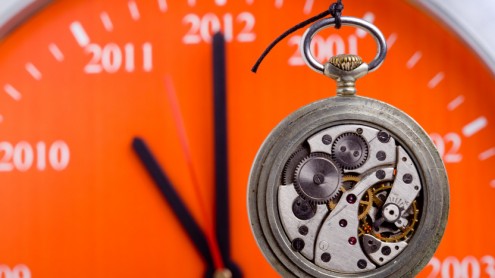 You've felt the frustration many times. As you write a comment on an interesting story, the web server responds with the message that the comment "may take a while to appear on the page".
This, the obligatory wait before your ideas are visible for other people to comment, elaborate, and improve on, is due to a mechanism known as caching. In order to increase capacity on a web server, a separate cache machine can be placed between the web server and you, the user. Serving a web page is a fairly expensive mechanism, since it needs to be constructed from all stories and comments on the blog, so the cache machine takes a "last known version" of the web page and gives the exact same page to everybody who asks for it for a few minutes. After those few minutes, it re-asks the real web server if the web page in question has changed: for example, if it has had your freshly written comment added to it, which it has.
Therefore, the web server knows of your comment immediately, but the cache server does not. As a result, other people won't see it until the cache server refreshes the web page from the server, pretty much like you can hit refresh in your web browser.
This blog, Falkvinge &Co. on Infopolicy, has three layers of cache servers. Ideally, comments appear immediately, as the cache servers are told to go refresh the page when a new comment is entered. When something technical glitches, and that message doesn't get through, it takes several minutes.
Anywhere it takes several minutes for a comment to appear, the discussion slows down immensely. Ideas are not built on, thoughts are not bounced, concepts are not tested against the public at nearly the same rate as if it is published immediately.
We've all felt this. The frustration, the… syrupy slowdown of ideas, the lid on creativity, as ideas are delayed by several minutes.
You can observe the same phenomenon on moderated blogs, but on a much tougher scale. There, it can take hours for people to be able to build on and improve upon ideas, as the bottleneck is that much thinner. If somebody needs to manually approve a comment in a particular location, that's basically a guarantee that there will not be a meaningful improvement of ideas in that location.
Now, imagine a twenty-year web cache server. If you come up with a good idea, people won't be able to improve on your ideas and take them to the next level for twenty years. Another twenty for a total of forty years before you could respond in turn. You suffer. They suffer. The exchange of ideas as a whole doesn't just suffer, it crawls to a near-stop, its velocity measurable only by laser precision measurements.
If five minutes of wait time kills the rate of ideas as much as it really and actually does in all our experience, what would a timescale of decades do?
So imagine that your ideas weren't improvable by others for twenty years, and also, that you couldn't build on the ideas of others for the same period of twenty years.
Welcome to the patent system.