When faced with obsolescence, companies react in different ways. In particular, it is useful to observe what happens when a company pioneers a technology that will disintegrate its existing business. This is a tale of morals of two such companies.
The first company was in the business of consumer cameras, and was a pioneer in digital photography. Realizing that digital cameras — the ones we just call cameras today — would kill all of the first company's product lines, they stopped research in that field entirely and went back to their key business.
The second company was more into electronics, and realized they were able to produce a device that would… maybe not obsolete their existing product line entirely, but kill its present profitability and turn it into a niche market rather than the current mass market. Realizing that they had a competitive head start into the new kind of device, they more or less bet the company on it, and they're now on the fourth generation of this new device that is rapidly obsoleting its previous type of product.
There's a lesson to be learned here.
Most companies will try to stall or prevent a new type of service or device that will kill their existing business — their incentive is to keep milking the already-invested cow for as long as possible, and therefore, they cannot and should not be trusted to roll out the new kind of technology. But in economics, we learn that sunk costs don't matter on a functioning competitive market.
The first company mentioned, Polaroid Camera Co., went bankrupt a couple of years ago. It is being cut up and divided for some intangible assets in bitter struggles.
And the second company? Well, the iPhone and iPad revenues are positively dwarfing stationary computer revenues at Apple Computer Co., replacing laptops and desktops rapidly, and Apple is one of the most valuable companies on the planet.
Now, with this in mind, we turn our attention to the telecoms industry. I still get proposals to get a fixed landline to my home. When I ask them,
"Why on earth would I want a 9.6 kilobit-per-second connection that charges by the minute and only can be used for a single application, when I have a hundred general-purpose megabits available without traffic charge?"
…they don't even understand the question.
There's a disconnect here. And it gets worse — at the executive level, the telecoms industry is acutely aware that the internet is going to disintegrate their current business, as shown in the example above. Therefore, they are trying their damndest to slow or prevent it from rolling out, all while pretending to embrace it, just like the railroad and stagecoach industries did to the automobile with the Red Flag Act in the UK.
I mean, just look at this: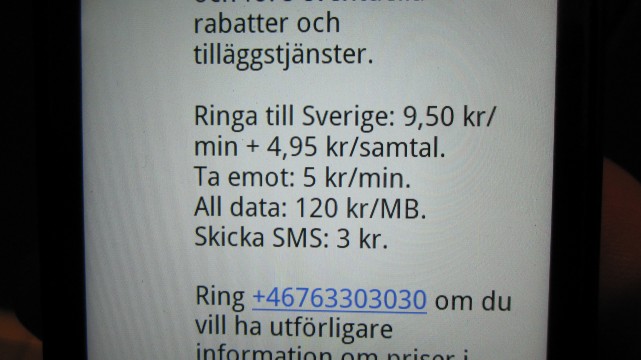 I'm currently in Switzerland, a stone's throw from where I live in Sweden. Still, the telecoms industry — the cartelized telecoms industry — wants to charge me SEK 120 per megabyte transferred. That's about 13 Euros or 20 US Dollars. Per megabyte. It would cost me a month's pay just to turn on mobile data in one of my devices as all apps would go into syncing mode and transfer some ten, twenty megs each.
I happen to know the production cost of this service, net connectivity over 3G, through my work in the European Parliament. It is on the order of one euro per gigabyte of traffic, or was last year, and is falling rapidly. In other words, the telecoms industry — all of the companies in the telecoms industry — is charging a price 10,000 times higher than the production cost. That's a one-million-per-cent profit margin. Most companies need to settle for about five per cent, but that's on functioning, competitive markets.
As that obviously is not intended for a service that's competitive on the market, the only reasonable conclusion is that it's not intended to succeed.
This is why it is absolute madness to entrust the old national telecoms monopolies with rollout of snet connectivity in general and mobile net connectivity in particular. They still have the monopoly mindset (or the walled garden mindset, not sure which is worse), and they are actively preventing competition to their rapidly obsoleting voice-only service.
Basically, mobile operators are screaming "regulate us!" to the European Commission and Parliament. That, and showing that they are working hard on becoming the next Polaroid.