The Pirate Wheel has been my model for putting the pirate ideology in a wider perspective. One year after the first draft, I have spoken to a lot of pirates all over the world and it's time to revise the model to summarize the impressions.
Six years after founding the first Pirate Party, it is obvious that the pirate ideology is more than a reaction against a crackdown on privacy, culture, and knowledge. We are defending and leading a connected, decentralized, resilient lifestyle where we don't accept gatekeepers of the truth or our culture. Rather, our ideology centers on being empowered with rights that our parents didn't have.
As I started working on summarizing this ideology, I realized that all political programs I have read are flat. They are a bunch of enumerated opinions, focusing on what the opinions are, rather than why the opinions are what they are, which is required for deeper understanding. Also, I have a very deep feeling that this is more than a convenience; it is a requirement when you live the connected lifestyle, that should be taken for as granted as citations on Wikipedia.
Therefore, I've rewritten the policies into a policy tree. Players of Civilization will recognize the concept immediately from Civ's technology tree. It shows what conclusions and policies derive from which observations and principles.
At the core, at the hub of the wheel, we have to identify what has changed in the sociotechnical landscape that gives birth to a new ideology. And really, there is really one small detail that has changed. One small thing that has enormous ramifications: everybody has been given a voice. Where everybody could listen in to broadcasts before, every same body can now send or broadcast their own messages as well, without restrictions. This is the one thing that has changed, and from which everything else stems.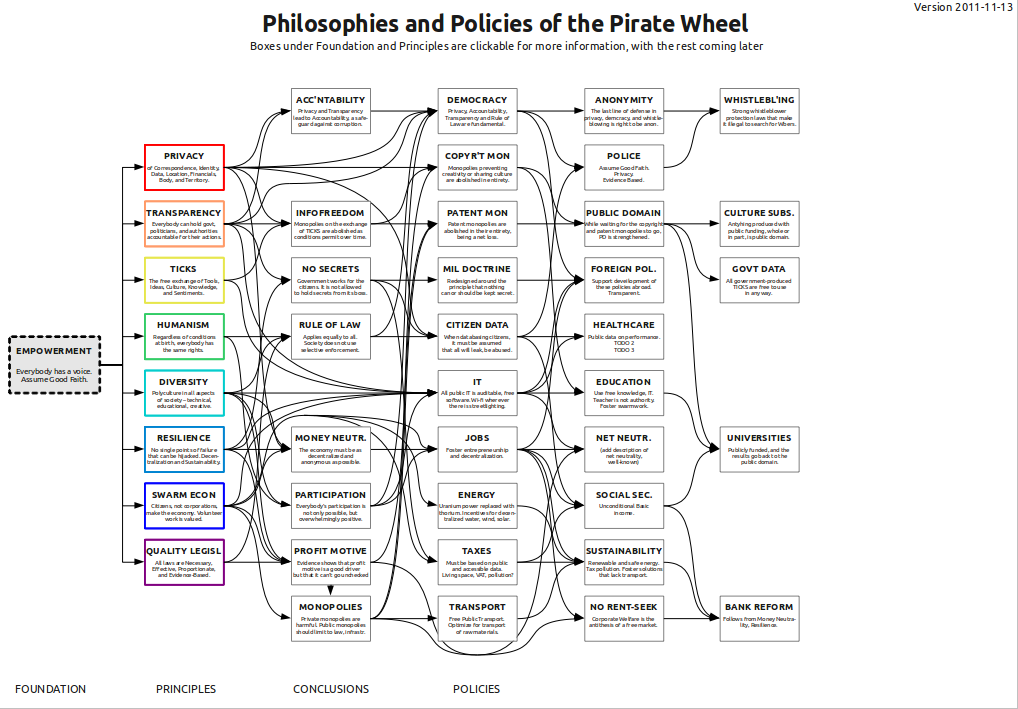 The image above is a PDF where the initial boxes are clickable for more information.
The hub and first box – Empowerment – leads to eight principles: Privacy, Transparency, Ticks, Humanism, Diversity, Resilience, Swarm Economy, and Quality Legislation.
These principles, in turn, combine to conclusions. For example, Privacy and Transparency combine to Accountability. Transparency alone is not enough to achieve accountability — you also need the privacy to examine the affairs of government without fear of retaliation.
Conclusions and principles, in turn, combine to form actual policies in this model. (The PDF here has short summaries of the intended policies; the boxes will link to full pages with more elaborate explanations soon enough.)
If there's anything that's totally off in this model, I'd very much like to hear your comments.