The news just broke: Germany says it will not be signing ACTA for the time being.
The news (Spiegel, Netzpolitik) seems to cast the future of ACTA into serious doubt. The accord requires signatures and ratification from all 27 of the European member states as well as from the European Parliament itself.
It started with Poland announcing a hold to the ACTA ratification, which – just like that – put the whole agreement in doubt. Few people seem to know this, but Poland is a heavyweight in the European Union's policymaking.
That was followed by the Slovenian Ambassador apologizing in public for her signature on the agreement, saying she had failed in her civic duty, and calling for anti-ACTA rallies, which is profoundly unique.
Since then, Slovakia, Czech Republic and Latvia have stepped forward and said they're putting ratification on hold.
With Germany – the European Union's superpower, by far the heaviest politically – now saying that it won't even sign ACTA for the time being, much less ratify it, it looks like we can actually win this fight and kill ACTA dead in the water.
And let's be clear: while the US and Japan could theoretically have ACTA between them, without the European Union, there is effectively no ACTA at all.
Tomorrow, there are anti-ACTA rallies all over europe. This is one seriously impressive map of rallies: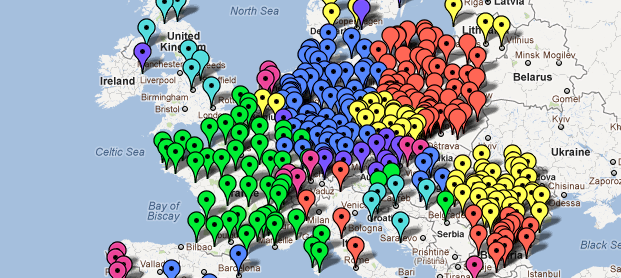 It makes me proud to see people rising up and demanding their civil liberties to apply even when they're on the net. In history, it will probably seem amazing how, for a time, that seemed to not be obvious.
(Meanwhile in Sweden, the government officials are going to extremes to deny any and all interviews concerning ACTA. We'll have to see how long that can hold.)