The European Parliament's mail room looks like a florist's shop, with bundles of flowers on every flat surface. Hundreds and hundreds. There are flowers being carried by somebody in practically every elevator ride. Those are the inside reports from the European Parliament in the wake of the ACTA rejection.
On Wednesday July 4, the European Parliament rejected ACTA overwhelmingly.
It would appear many citizens of Europe and the world took Thursday's suggestion from here to heart: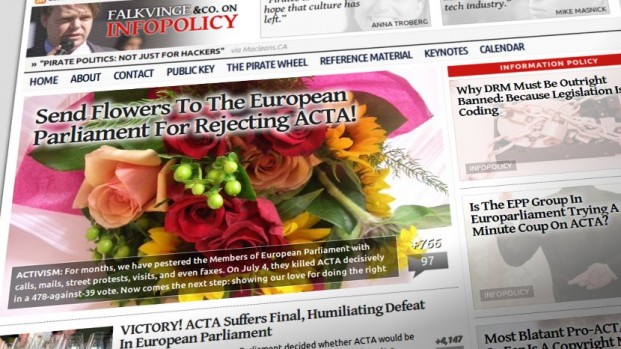 The idea of sending flowers was carried and spread by many (766 shares and counting – each +1 of the +766 is one share somewhere, and one share can reach just one other person or it can reach hundreds of thousands), but from what I've seen, I'd like to give particular credit to Glyn Moody, the Anonymous hive, Enrique Dans, and Kim Dotcom for using their range and reach to spread the message, but do note that they're still just one +1 each. This was a grassroots reaction.
So what does it look like in Parliament, then?
Members of European Parliament are starting to tweet about it, and they herald it as a career first:
First time ever I received flowers for voting right: "Thank you for voting no to ACTA!" Roses, lilies etc. – Thank you! pic.twitter.com/t0utqIvo

— Reinhard Bütikofer (@bueti) July 9, 2012
Diolch i bwy bynnag anfonodd y blodau hyfryd ataf. Thanks to whoever sent the lovely flowers to me for my anti ACTA vote #ACTA #plaidcymru

— Jill Evans ASE/MEP (@JillEvansMEP) July 9, 2012
Har fått enorm bukett till kontoret. För att jag röstade nej till #acta. första gången jag får blommor för något beslut jag tagit. #svpol

— Åsa Westlund (@AsaWestlund) July 9, 2012
Merci à / aux anonymes qui m'ont fait livrer des fleurs au PE pour #ACTA au nom "du peuple d'Europe". Très émue 😉

— Francoise Castex (@FrCastex) July 9, 2012
Christian Engström, Pirate MEP, has written a blog post about it, and Pirate MEP Andersdotter's assistant @Senficon has posted pictures, too.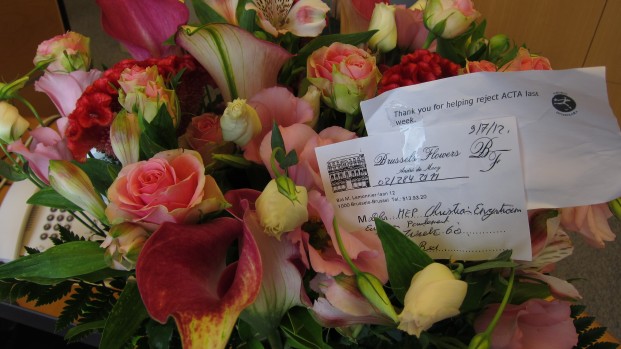 Still, I predict most of the flowers will arrive tomorrow Tuesday rather than today. I'm very happy that so many chose to follow the suggestion and do as I did, sending flowers to a random Member of European Parliament who helped preserve our civil liberties against encroaching corporate interests.
Unfortunately, photos are not allowed in the mail room (for obvious reasons). We'll see if our heroes in Parliament get over the surprise to take more of a group photo soon enough…