Last Wednesday, we defeated ACTA, when the good forces on the inside and outside of European Parliament cooperated to defeat the corporate-rule European Commission. It didn't take many days before
another trade agreement surfaced, uncovered by Michael Geist, that looks like a back door for the ACTA provisions if ACTA as such was rejected by the European Parliament. It's called CETA and is a trade agreement between Canada and Europe.
At the time, I said that this alone did not necessarily mean that the European Commission would try railroading an ACTA facsimile through Parliament – the leaked CETA drafts came from February of this year, when it seemed like ACTA was a done deal. Therefore, seeing identical texts was… well, logical, as they would have written in February of 2012. The draft texts could be seen as a time capsule of the expectations of their time.
My assessment would be that the European Commission is still in a state of shock over the forceful and complete rejection of its intended direction. Seeing that this was less than a week ago, we are realistically still months away from a new direction materializing. As typical office workers, the Commission bureaucrats can choose one of two directions here – they can either learn from this very costly mistake, backtrack and re-plan, which is very expensive both in terms of organization and money, or they can just steamroll ahead as if nothing happened. The latter is a politically very risky maneouver, given the decisive rejection of ACTA, even if the human cost short-term is lower – and the Commission is quite smart and suave, so I doubted they would bet any further prestige in getting intellectual property rights override civil liberties and fundamental rights no matter what the cost.
However, MEP Christian Engström attended a meeting with the Commission's responsible person for CETA yesterday, a chap named John Clancy who was previously responsible for ACTA, a person that Michael Geist also mentions by name. MEP Engström blogged about that meeting later, concluding that CETA indeed looks like the "First Zombie ACTA". Quoting MEP Engström:
Yesterday, I attended a post-mortem seminar on ACTA in the European Parliament. One of the panelists was the civil servant from the EU Commission who used to handle ACTA, and who is now in charge of the CETA negotiations.

I took the opportunity to ask him about CETA, and if it wasn't true that CETA contains a chapter on intellectual property rights where certain provisions have been copied verbatim from ACTA.

The reaction of the Commission official was very interesting. He confirmed that CETA does indeed contain a chapter on intellectual property, but then immediately went on to try to belittle Professor Geist (without anybody else having mentioned Professor Geist's name).

According to the Commission representative, Professor Geist should not be taken seriously, since he was commenting on a draft that was six months old, and the text had changed since then.

When I asked the obvious follow-up question, if the Commission had published a more current version of the text under negotiation, the answer was no.
MEP Engström, as well as his assistant Henrik "Hax" Alexandersson, recognize the attitude of belittling Parliament as identical to the attitude displayed from the Commission towards Parliament in the ACTA showdown, and draw the conclusion that bad faith is present all over CETA:
So it appears that it will be déjà vu all over again. The unelected EU Commission is negotiating an international agreement with legislative effect behind closed doors. They are keeping all documents secret, while arrogantly claiming that everybody who is questioning what they are doing is misinformed. Same procedure as last time.
Henrik "Hax" Alexandersson elaborates:
It would look as the Commission is really going to try steamrolling the CETA agreement no matter what. It suffers from the same substantial problems as ACTA. The opposing teams are the same as over ACTA. The secrecy is the same as over ACTA. And the entire political battle will have its first rerun. Kind of. […]

The Commission representative, John Clancy, made it perfectly clear that the Commission intends to proceed with CETA as though nothing had happened. That is, the Commission doesn't seem to care that it was sent back to the drawing board for the exact same political substance in the fall of ACTA.
Still, while this is a strong indication, I would not say with certainty yet that the Commission is going to try this catastrophically dumb stunt. I try to apply the lowest-friction explanation to most things I see in order to understand what's going on.
So rather than going all analytical on political aspects, I find that a lot of the things happening in politics are easier to explain if you try to picture the individual people behind the scenes, imagine their situation, and look at what their options and feelings would be. In this case, you have bureaucrats who have been negotiating a huge trade agreement between Europe and Canada, probably for well over a year, only to have your year-long work fatally torpedoed on July 4. This date is seven workdays before your six-week summer vacation starts, which is the only regular break from papers, more papers, and yet more papers you're ever getting in your career. Are you going to immediately call crisis meetings and rewrite the whole thing, or are you going to shrug your shoulders and count down the minutes before you leave for vacations?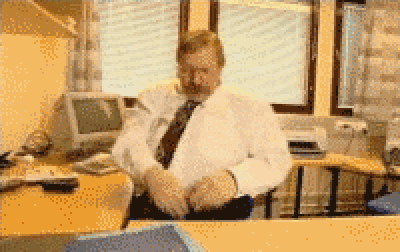 It would still be logical that these people would say "no, you can't see the agreement", regardless of whether they were going to rewrite it after summer, not rewrite it at all, or most likely, haven't cared to think about that decision point yet because summer vacations are just around the corner. But this belittling attitude is still a significant warning sign, and it should intensify the CETA blip on all our radars.
Now, however, the Commission bureaucrats are leaving their jobs to get wasted, high, tanned, and laid for the next six weeks. European Parliament is going to be just as empty. So even if we wanted to protest and mail and pester the officials, there's nobody there for the next six weeks.
So rather than risking acute activism fatigue (hey, we just defeated ACTA!), I think we should follow the bureaucrats' example and enjoy some R&R for the next couple of weeks. The showdown over this thing called CETA continues in late August or early September at the earliest.