"Anything that doesn't fit our preconceived business model is as bad as child pornography, or stealing, and can and should be banned from the internet." That sums up the boggling arrogance of Big Wireless in regard to Net Neutrality as presented yesterday.
Big Wireless wants to prevent you from using their mobile internet to make voice calls outside of their network.
It boils down to the concept of the free market and open competition. Does a dominant actor have the right to prevent customers from going shopping different parts needed for a service from different suppliers? Do you have the right to buy your refrigerator from one company, and the electricity to run the refrigerator from another company? Do you have the right to ignore demands from Ford Motor Company, where you bought your car, that you only buy gas at Shell?
Of course, says the voice of reason. Of course not, says Big Wireless.
It is about vertical market integration and the resulting harm to the free market. More specifically, it is about the fact that wireless carriers are now offering two levels of the so-called communications stack — where you need a stack of seven specific pieces on top of one another to make a phone call, and each piece can be bought from someplace different.
Big Wireless is now supplying mobile internet as well as mobile voice calls. The voice calls are handled by one piece that rests on top of mobile internet. That piece can come from the wireless carrier, or from another voice call provider such as Skype. Like this: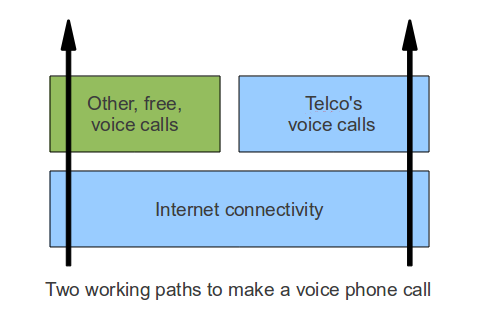 These are sold separately, as separate products. Yet, buying one and using it in a way that renders the second obsolete — as in using the Internet to make voice calls, outside of the telco's ticking fee clock — is now painted as stealing.
Let's take that again: not buying enough is called out as stealing.
We recognize this from another industry which is also dying.
Big Wireless goes even further in its arrogance, and compares calling outside their service to distributing child pornography. Yes. Read that again, and follow the link. "We are blocking child pornography, so we can block this as well." Note the staggeringly self-righteous attitude here: "We are blocking child pornography, and doing so is just. Therefore, by extension, we may block anything else we don't like, and doing so is therefore also righteous and just."
The notion that Big Wireless has the right to destroy the Internet in this fashion is absurd. The notion that they think they have the right to write this cartelization into their agreements is absurder still.
The time is more than ripe for a regulation of the telecoms industry and a legal codification of Net Neutrality to, frankly, put an end to this kind of shit. The unregulated market will not keep the net neutral, just as Standard Oil would do anything to prevent loss of control of the value chain. Still, Standard Oil was convicted of cartelization in the end and broken into pieces, and Net Neutrality is a necessity for long-term jobs and economic growth in Europe.
A good start could be to outlaw any blocking at any level of Internet services. Ironically, the European e-commerce directive already does this by introducing liability to all traffic over the network to any intermediary who starts selecting any traffic. It just hasn't been enforced. I foresee that the copyright groups could find a very potent weapon here — but they would be very unlikely to use it, as it would immediately lead to no blocking whatsoever, which is the rest of the world's goal but not theirs.