Ever since the e-mail encryption PGP was created, civil liberties activists have wondered how to get people in general to care about cryptography and protecting their rights on the net. What would make them care? The answer appears to come from a totally unexpected direction.
A marketplace called Silk Road has been making headlines lately. It is a marketplace for plants and plant parts; plants that are banned, but that people still want to acquire, and quite frequently do.
Previously, there has been no real use case for learning cryptography and anonymity for the average citizen. Yeah, we send mail. Yeah, somebody may read it. So what, sort of. Installing Tor? PGP? What's that? Too cumbersome. NERDY! Won't bother.
Cryptography and cipherproficiency has been limited to a small technically and mathematically interested subgroup who sees quite clearly how this technology and these skills are necessary to safeguard civil liberties against governments, but getting it to the masses just hasn't happened. There hasn't been a reason to do so. Until now.
Silk Road is only accessible through Tor, an anonymizing subnetwork on the net that people in Egypt used during the insurrection, and which makes the person using it practically impossible to track. (Install from here.) It routes the connection through a number of random connections throughout the world. And the only way to pay is with bitcoin, the anonymous regulation-defying cryptocurrency. The Gawker story tells us about a person who bought something and got it in the mail four days later. "It felt like I was in the future", he is quoted as saying.
So finally, bloody finally, there is a reason for the masses you wouldn't otherwise reach to learn anonymization and cryptocurrency. Weed. It might not be the most academic of reasons, but that's the whole point: academic reasons don't appeal to the masses. In order to change somebody's behavior, they need a reason to do so. Here's one. Safely anonymous mail-order cannabis.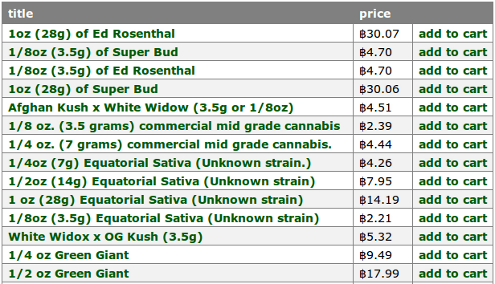 Screenshot from Silk Road.
This means that when cannabis users and the people around them really need anonymization later on, they will already know how to do it. That's great. Absolutely fantastic. I had been hoping that a mechanism like this would appear that would educate the broad masses in how they protect their most basic liberties, but I had never expected weed to be the driver.
We need mass cryptoproficiency to justly keep secrets from rightshostile politicians.
It's great that we finally have a driver for mass adoption of cryptography and anonymization to people that would otherwise never learn how to protect themselves. But let's take a look at this from a more philosophical perspective — why is this so appealing to the masses, anyway?
Some people want to buy, other people want to sell, government is using harsh violence to prevent these voluntary free-market transactions. Not for medical reasons, but for political reasons. It is quite reasonable to ask if this law is just; the door to freedom in the form of Tor and other cryptography has been praised by governments in the West when net activists under other governments use it, such as under Mubarak in Egypt. I think the governments here in the West are about to discover that the door to freedom swings both ways — code trumps law and people will defy unjust laws everywhere.
Wake up and smell the coffee, sort of. (Which has been, I may add, banned in several countries — Germany, Sweden, Turkey, England, etc. If it sounds silly to ban the coffee plant and its beans, which it certainly does, then there's a foretaste for you right there of what the history books will say of the current era.)
As an ending note: it's a plant. People are being put in jail and their lives ruined for having the wrong kind of plant. A frakking vegetable. I didn't realize just how political this Dilbert strip was eight years ago, but apparently Scott Adams has a bit of a knack for stating the obvious before most other people.

Images embedded from Dilbert.com with permission from United Feature Syndicate, Inc.