In the local election of Innsbruck, the Austrian Pirate Party has sent shockwaves by taking its first Austrian seat, finishing at 3.8% in the election.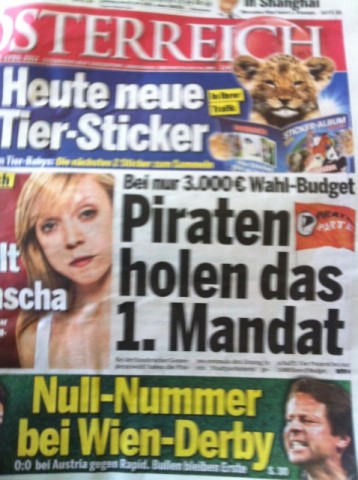 This caused frontpage news in Austria – the tweeter @Exiledsurfer was kind enough to tweet the pictured frontpage. Taking one seat in the city parliament of Innsbruck in a local election may not seem like much – but it's large enough to make the front page story, heralding a strong trend all over Europe – you can almost read the strong headline ("Pirates Get Their First Seat") as though it read "It Begins!". It is also noteworthy that their election budget was a mere three thousand euros.
This is a common recurring theme across Europe right now. South America is coming along well too, but appears to have trickier party registration rules – in any case, the PPs of Brazil and Argentina have been frequently seen in the community. The United States is boosting its presence state by state as well, although they have a different political system and will have to work with a slightly different modus operandi.
As I just wrote on TorrentFreak, it's important to understand that when you take 5% of the votes in Europe, you get 5% of the seats. Thus, the political system in most countries of Europe is open to shifting its policy once you have the support of some quarter-million people. (The United Kingdom and France are exceptions, except for their elections to the European Parliament.)
I predict we will see more news of this sort in the very near future. In the meantime, congratulations to Piratenpartei Austria (PPAT) are certainly in order.