In a remarkable statement, the copyright monopoly fundamentalist Marielle Gallo – of the Gallo Report infamy – says that the citizens of Europe who have been campaigning against ACTA are terrorists.
In a just-published interview (in French), Marielle Gallo – a Member of the European Parliament, no less – calls the anti-ACTA campaigns "A soft form of terrorism" (une forme douce de terrorisme). Yes, she really does say that the citizens of Europe, her constituency, who contact her colleagues in Parliament regarding a concerning political matter should be regarded as terrorists.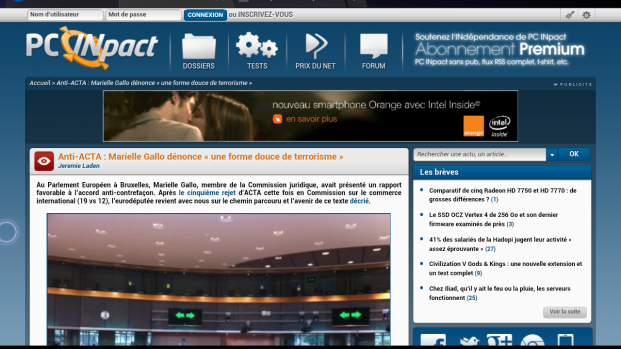 This shows a couple of things.
The monopoly maximalists have completely gone bonkers, off the deep end, and fishing. Calling your own constituents terrorists in media when they express political opinions that differ from your own is more than political suicide, it's straitjacket material.
The monopoly maximalists are scared beyond their wits of getting their dogma questioned, their facade scratched at, and losing their control of the monopoly-maximizing discourse. Apart from the obvious proof of having lost their wits, they are now acting in desperation and are at a loss for stronger words to denounce their opponents. ("Pirate" has kind of lost its denouncing effect when people get elected on the pirate banner.)
Accordingly, the pendulum is starting to swing back in the right direction. The reason for the dogmatic maximalists' obvious discomfort to this level of ridiculous statements – on the record, no less – can be no other than a feeling of situational control slipping through their fingers.
Overall, this is an excellent sign. Let's continue with this form of "terrorism". Myself, I just call it democracy at work. Mail the MEPs today to reject ACTA, whether you live in Europe or not.
Beyond a win on ACTA, we should take the opportunity to reverse the trend and express our opinion that the monopolies should begin to dismantle.
See also EDRi (with a full translation of the interview) and Techdirt.
UPDATE: Several people have pointed out that Gallo also states in this interview that the Members of European Parliament should be doing the thinking, and not citizens.
UPDATE 2: Specifically, MEP Gallo said, "It isn't just a question of misinformation. It is a soft form of terrorism that scares people. They are afraid. This is a fantasy." So yes, she claims that a differing opinion from hers is misinformation and terrorism.