With four simple actions, the Euro can be temporarily saved. There's not even a political decision involved; all of these four actions can be taken by the executive European branch and its agencies without involving accountable politicians.
At the introduction of the Euro, The United States protested loudly at the existence at a 500-euro bill, as it facilitated the transfer of large amounts of cash in physical form for illicit activities. At this level, however, the concern is not the illicit activities as such, but the economic dominance that the use of currency brings. For the infamous "ordinary people", the law certainly matters, but at this level, what's legal or illegal trade can be changed at the stroke of a pen – so what really matters is the neverending game of geopolitical dominance.
So most notably, the 500-euro bill meant that a briefcase packed with euros could transfer a lot more value than a briefcase packed with dollars (the 100-dollar bill).
Because of this, the 500-euro bill meant a threat to displace the US Dollar as the currency of choice for the world's two largest markets – guns and drugs. (Oil is third.) This didn't happen, but if it did, it would be a serious prop-up to the weak Euro at the cost of the preciously-failing US Dollar. It would not be a rescue package for underlying structural problems, but it would be a reprieve and breathing space to fix those real problems.
So, four things:
1. Issue a 1,000-euro note.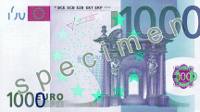 Issuing a 1,000-euro bill means that a briefcase maxed out with euros becomes worth about 15x as much as a briefcase maxed out with US Dollars.
If the 500-euro note didn't have the effect of displacing the US Dollar on the illicit markets, which the US feared (and protested against), then maybe the 1,000-euro note will. But we're not done yet:
2. Issue a 2,000-euro note.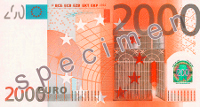 The euro is built on having 1, 2, and 5 in every order of magnitude. So in order to be consistent with the euro notes and coins as such, we'd also have to issue a 2,000-euro note. As a side effect, of course, the proposition becomes twice as valuable.
You can see where this is going as we start looking at the third step of the four:
3. Issue a 5,000-euro note.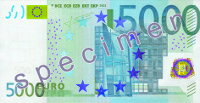 So the final new note, obviously, would be the 5,000-euro note.
It is very important to note that issuing these new notes would not mean printing more amounts of money as such, like many countries have mistakenly done when they are debt-stricken. It would merely enable more compact transfers of value, more physically compact transfers of value, when this currency is used.
More specifically, it provides a 50x value proposition over the US Dollar in the world's two largest markets that make up about 10% of the world's trade, or about seven trillion euros yearly.
4. Continue ignoring the stability pact.
The eurozone has a budget deficit limit known as the stability pact, which says that no country may have a budget deficit above 3% or a debt above 60% of GDP. (In comparison, the USA has a yearly deficit running at about 50%.)
For the prospect of having an external party buy seven trillion of your currency, you need a deficit of a similar size that they can absorb by buying your currency. The stability pact just won't allow this (and it is one of the major hurdles to the euro replacing the USD as the world's reserve currency). While issuing new notes as such doesn't mean creating such a deficit, enabling other people to buy your currency means that you must have currency for sale.
However, with most member states being in flagrant violation of the stability pact already, this should not be too much of an administrative problem. It is already widely ignored.
It could be noted that in order to survive an economic meltdown, you need to make sure you're not the weakest economy. It's kind of like being a zebra in a herd running from lions: you don't need to be the fastest zebra, or even an average zebra – you just need to not be the very slowest one.
Enabling illicit markets to buy seven trillion worth of euros to displace the USD in order to make their financial transactions 50x more cost-efficient would, obviously, also put an equivalent seven trillion USD for sale on the currency markets. This is something that even China has religiously avoided (it prefers trading its USD for factories and mines abroad, rather than selling it on the market, to get rid of toxic USD assets). The results could be… interesting, seeing that the USA is already dependent on finding debt buyers for 1.5 trillion of USD deficit per year. If that doesn't happen, the federal administration can't pay its bills.
As a final note, it should be noted that I'm not advocating this solution. I am pointing it out as something that can be done – in terms of a possible chess move on the geopolitical chess board, if you like. The solution I would prefer to advocate would be much more far-reaching and would involve nasties such as transparency and accountability for authorities and politicians, though if these had been properly applied, we would not have had the euro in the first place.
But above all, many people seem to think that the same rules apply to the economic leaders as to everybody else. This article is an example of the thinking that happens in the geopolitical game; it is a completely different set of rules.
To be honest, though, just issuing new bills and continuing to ignore the stability pact is probably better than setting up several metric fucktons of currency emergency funds to save capsized economies – in about the same way it is better than beating yourself over the head with the nearest hammer.