There are many ways we could reform the copyright monopoly to solve some of its problems. This is politically doable. But long-term, we really just need to abolish this thing altogether.
One of the better attempts at solving the problems with the copyright monopoly has been Creative Commons. Creative Commons does great work in encouraging creative people to think differently about the copyright monopoly, and about what other people are allowed to do with their work. Unfortunately, there's one big problem. Here's an infographic to sum it up: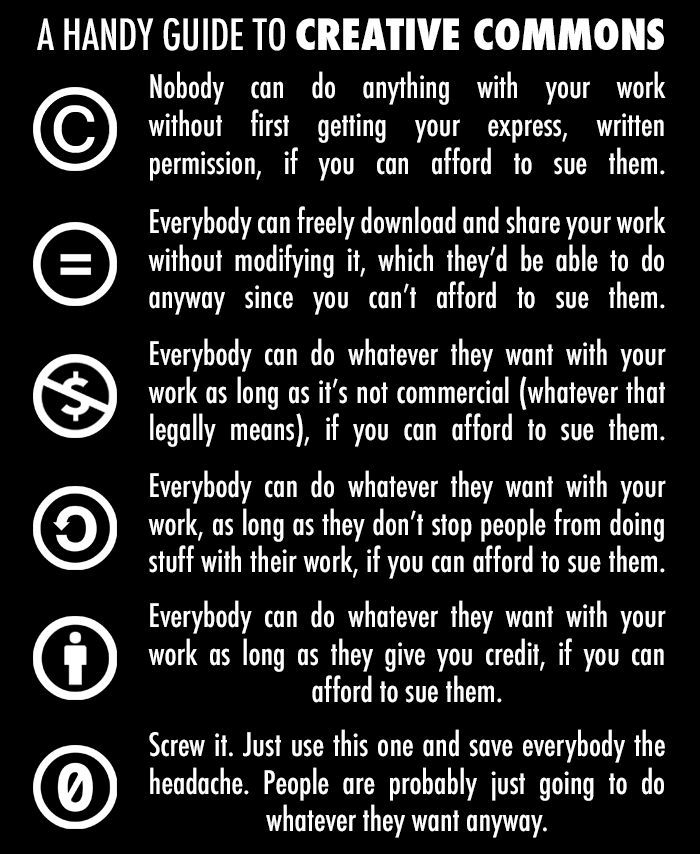 This is the problem with any law based on the copyright monopoly: it only protects people who can afford to file a lawsuit. If you have the money, if you have the time, and if you have the will to go through a process that often takes years of stress and silliness, then you get to enjoy the benefits of the monopoly. Otherwise, it's a joke.
For all the wonderful conversations that Creative Commons has started, I remain convinced that the only license they've put out that's actually useful is CC0: the one that releases your entire work into the public domain. I love CC0, actually. I've found it to be a very effective anti-piracy technique; it literally makes it physically impossible for people to do anything illegal with my work.
But unless you're a big corporation (or a very wealthy individual), your experience with a copyright-based license won't be any different than just putting your work into the public domain. You will be completely at the mercy of other people, choosing whether or not to be a dick to you. If your work is in the public domain, then a person who downloads your work, enjoys the hell out of it, and doesn't donate a cent to you despite being able to afford it…that person is a dick. Knowingly using your public domain song in a hit TV show, and not offering to share any of its massive profits? Dick move. Reselling your work without crediting you? Dick dick dick dick dickety dick.
Being a dick does not have to be illegal. In fact, most attempts to make dickishness illegal cause so much collateral damage to civil liberties that it's not even worth it.
But couldn't we extend the benefits of the copyright monopoly to even the starvingest of the starving artist by reforming the legal system? What if filing a lawsuit weren't so expensive, so time-consuming, and so inaccessible?
Well, first of all, I'd ask you how in the hell you planned to do that. But maybe we shouldn't be democratizing the ability to sue each other. Maybe it's a good thing that filing and going through with a lawsuit is such a stupid, bureaucratic, soul-sucking process: because filing a lawsuit is a pretty stupid way of resolving disputes. This slow, arduous legal system makes it so much more attractive for us to attempt to talk to each other, instead of crying to the state to bring down its hammer on people we don't like. Settling lawsuits out of court is supposed to be attractive.
And that about sums up why we ought to do away with the copyright monopoly entirely. It encourages us not to talk to each other. Why not just let the etiquette of accessing and re-using works of art emerge naturally from human beings interacting? Why create legal weapons to threaten each other with, instead of just acting like adults and talking?
We never talk anymore, humanity. You never return my calls.