Noćas se pročula vest da je Američka bezbednosna agencija prisluškivala i prikupljala lične informacije sa faktički svih velikih centralizovanih društvenih mreža i servisa. Fotografije, video snimci, tekstualne poruke i glasovne komunikacije – sve. Godinama već pričamo o ovome, a označeni smo kao čudaci i ludaci koji zagovaraju teoriju zavere; dobro je što napokon svi mogu da vide zvanična dokumenta crno na belo.
Noćas, po evropskom vremenu, eksplodirala je vest da je Američka bezbednosna agencija (NSA) još od 2007. godine pod okriljem programa pod nazivom PRISM. imala direktan pristup zapravo svim društvenim mrežama. Veliki broj društvenih servisa je u okviru ovog programa dobrovoljno pohranjivao lične informacije i podatke ljudi pravo u NSA. Ukratko, ukoliko ste koristili ili izbacivali na internet
imejl
video ili glasovnu komunikaciju
video klipove
fotografije
skladištili podatke
koristili VolP pozive
razmenjivali fajlove
držali video konferencije
(i ostalo)
…koristeći pri tome bilo šta od…
Microsofta(uključujući i Hotmail), od 11. septembra 2007.
Googlea, od 14. januara 2009.
Yahooa, od 12. marta 2008.
Facebooka, od 3. juna, 2009.
PalTalka, od 7. decembra 2009.
YouTubea, od 24 septembra 2010.
Skypea, od 6. februara 2011.
AOLa, od 31 marta 2011.
Applea, od oktobra 2012.
…onda ste prisluškivani i još uvek ste.
Ova vest je procurela odmah nakon što se otkrilo da ista ta NSA zahteva podatke o telefonskim razgovorima od jedne od najvećih telekomunikacionih kompanija u SAD, a pretpostavlja se i od svih drugih.
Ukratko, praktično svaka usluga koju ste ikada koristili i koja se zasniva na principu "verujte nam" je vaše privatne podatke pohranjivala direktno u bezbednosnu agenciju koja se može porediti jedino sa istočnonemačkom Stasi policijom. Apsolutno svaki podatak o vama. Jedini lako uočljivi izuzetak na spisku predstavlja Twitter (ali Twitter koristi princip javnih poruka – pre svega ne preporučuje se ni pisati bilo šta na Twitteru).
Pomno obratite pažnju kako ovaj PRISM program nije isključiv samo za teritoriju SAD: nekoliko evropskih država koriste isti tip prisluškivanja, a i Švedska je među njima. Bezbednosne agencije među sobom slobodno dele sirove podatke bez problema obilazeći sve zabrane prisluškivanja sopstvenih građana ("Ja ću prisluškivati vaše, ako vi prisluškujete naše").
Ova vest je praktično ekspoldirala kada se pojavila prošle noći. Mi smo već nekoliko godina unazad govorili da je ovo verovatno stanje stvari – nakon svih dokaza koji su prikazani prija konačno se osloboditi pogrdnih reči kojima smo nazivani. Kao što se moglo i pretpostaviti, kompanije i društvene mreže koje se spominju na dokumentima procurelim iz NSA pokušavaju da se izmigolje uz pomoć izjava i komentara.
Google je na primer u svojoj izjavi za Gardian rekao: "Google veoma brine o sigurnosti podataka naših korisnika. Podatke o korisnicima otkrivamo organima vlasti u saglasnosti sa zakonom i sve takve zahteve pažljivo razmatramo. S vremena na vreme pojedini ljudi tvrde da smo napravili sporedni ulaz za naš sistem koji za pristup koriste organi Vlade, ali Google nema sporedni ulaz koji organi Vlade mogu koristiti kako bi pribavili privatne podatke naših korisnika."
Kao političaru veoma mi je upečatljivo koliko je ova izjava pažljivo sročena kako bi dala privid odbacivanja optužbi, a da zapravo to ne čini. Ona prestaje taman tu gde njeno značenje prelazi u "izrečene optužbe su laž".
[AŽURIRANO: Izjava koja je usledila od strane googleovog generalnog menadžera je u potpunosti promenila stvari. Ukoliko koristite neku centralizovanu komunikacionu uslugu i dalje vas prisluškuju ali za to Google nije kriv.]
Na primer, može se napraviti takav sistem koji sa googleovih servera u saglasnosti sa dokumentima o NSA konstantno pohranjuje podatke u njenu bazu podataka, a gore citirana izjava bi i dalje bila istinita (ukoliko Google sam pohranjuje podatke u NSA, umesto da NSA uzima podatke od Googlea).
Microsoft – čiji je moto "Privatnost je naš prioritet", Guardian naglašava – je bio prvi koji se pridružio PRISM programu u 2007. godini. Sa druge strane, ta kompanija nikada nije ni uživala neko poverenje pa me prema tome njihovo pridruživanje mnogo i ne iznenađuje.
Ono što se može naučiti iz svega ovoga je ono što smo mi aktivisti u borbi za slobodni internet odavno znali i prema čemu smo se sve vreme rukovodili: ukoliko želite da vaši podaci budu zaštićeni, ne možete ih nikome poveriti. Nikome. Morate se postarati da sami izvršite enkripciju. Tek tada ih možete predati u ruke nekome drugom. Stavljanje nekriptovanog falja na Dropbox, Google Drive, slanje istog mejlom itd. jeste i uvek je bilo isto kao da ste ga poslali čitavom svetu na izvolte.
Sistem koji zahteva privatnost, a koji se zasniva na pretpostavci poverenja u treće lice je u startu loš.
Možete se uzdati samo u one sisteme čiji je osnovni princip nepoverenje u čitav svet (poput bitcoina ili nota bene), ili u sisteme koji su pod vašom fizičkom kontrolom. Obratite pažnju na šta mislim kada kažem fizičkom: nije dovoljno da imate virtualne servere "u oblaku" jer će administrator tog oblaka bez ikakvih problema moći da uđe na vaš server i imaće uvid u sve što ste radili, a ukoliko poželi moći će i da te podatke prosledi trećoj strani i to se mora uzeti kao pretpostavka. Iz istog razloga nije dovoljno imati iznajmljeni sopstveni server u nekom datacentru: administrator tog datacentra može dati pristup vašem kompjuteru kome god želi. Upravo iz tog razloga moj server na kojem je i ovaj sajt ali i neki drugi sajtovi se nalazi na mojoj terasi: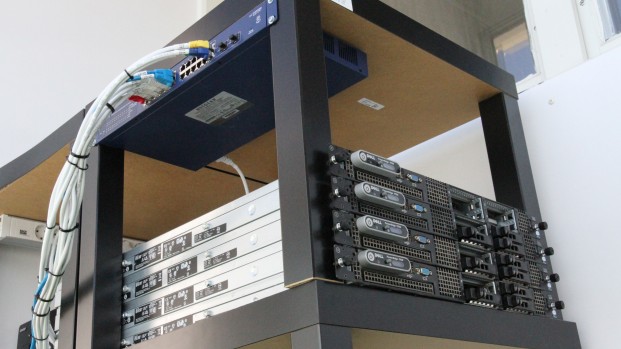 Upravo iz ovog razloga Dropboxu, Gmailu, Skajpu i drugim sličnim servisima ne možete poveriti ništa što je čak i iz daleka iole osetljivo. Ukoliko posedujete poverljive podatke potrebni su vam vlastiti serveri za skladištenje i korišćenje. Serveri koji su pod vašom fizičkom kontrolom. Eto zašto se morate koristiti kriptovanim SparkleShareom na vašim fajl serverima umesto da koristite Dropbox u oblaku; zbog toga na vašim serverima umesto Skajpa morate koristiti Mumble koji u podrazumevanim podešavanjima koristi enkripciju; zato morate koristiti RedPhone na vašem mobilnom telefonu umesto da koristite običan glasnovni poziv.
Vać sada je to pitanje života ili smrti u mnogim delovima planete. Takođe, imajte u vidu da možda ne morate da brinete zbog zakona koji su trenutno aktuelni: sve se snima i skladišti, a vaše reči koje danas deluju nevino se mogu kroz 30 godina vratiti da vas zakonski progone usled neke drugačije administracije.
Privatnost je vaša odgovornost. Nikome ne možete verovati.
I poslednja napomena, upravo ovo pokazuje zašto su piratske partije neophodne – širom sveta – da bi sa obale pravo u okean šutnule političare koji iz svojih kancelarija odobravaju ovakva nečuvena kršenja ljudskih prava. (Obično bih rekao u "drugu državu", ali ljudi iz te druge države se uvek žale kako ni oni kod sebe ne žele takve političare).