The Norwegian Pirate Party has reached parliamentary levels in the mockup school elections, to the surprise of everybody but the pirates themselves. In Norway, mockup school elections are held one week before the real elections, and the school results are discussed in the run-up week to the elections. With the Pirate result being discussed in most major news outlets, this provides a strong Pirate boost to the coming election.
The Norwegian Pirate Party got 4.3 per cent in the school elections, despite an apparent lack of voting ballots for the party. Norwegian media reacts: "The Pirate Party had a strong success in the school elections – the youth have already embraced the party". The Norwegian Pirates were particularly strong at technical schools and media schools.
A sample of media reactions: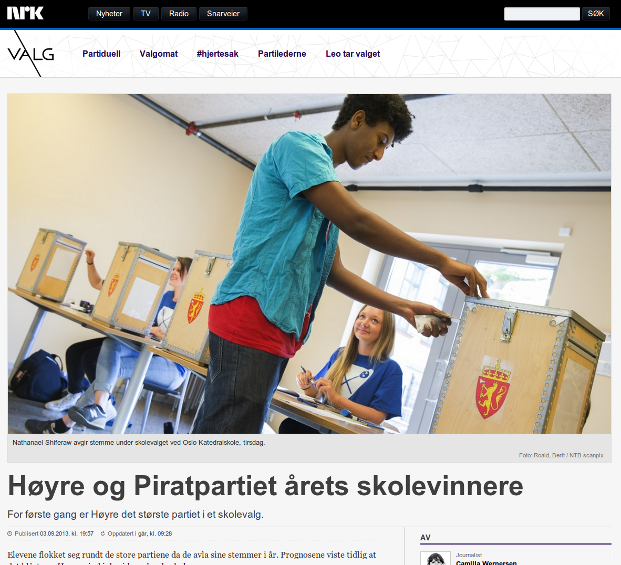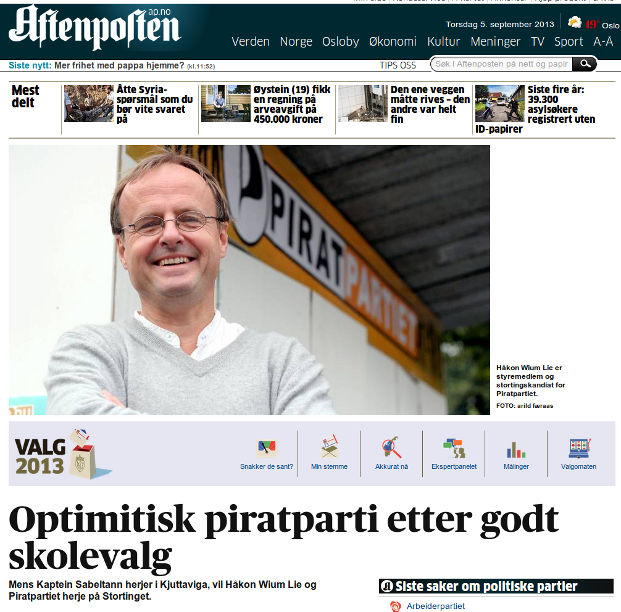 To be called out as an election winner just a few days before the actual election – that's publicity you can't buy with money. Will it carry the Pirates all the way to the Norwegian parliament, the storting? That's far too early to call, but this is nevertheless a very good boost.
Similar school elections are held in many European countries slightly parallel to the real elections. However, Norway holds the school elections prior to the real ones – and importantly, makes the school election results available during the final few days ahead of the real elections. This way, surprises in those result affect the outcome of the real elections.
We could observe a similar effect in Berlin, when a poll gave the Piratenpartei 4.5% of the vote one month ahead of the elections. While that was technically below the parliamentary threshold, the newcomer surprise was so strong that spotlights were centered on the new darling – and so, the real election result came to almost nine per cent.
So the Norwegian Piratpartiet outscored several established parties, becoming the sixth largest party in the school elections, enough to have had secured eight seats in Norway's proportional parliament if this were the real elections. Will the surprise effect and the added visibility be enough for seats in the real Parliament in this election, too? Time will tell – the Norwegian election is next week.
In comparison, the Swedish Pirate Party got 4.0% in the 2006 school elections, which were held on the same day as the real elections in Sweden. In the following 2009 elections, though, the Swedish Pirates got their first two seats in the European Parliament, having become the biggest party in the 18-30 age group.