Bitcoin is soaring again. On examining the market size and market share for bitcoin, the valuation is unwarranted by several orders of magnitude comparing to its mere utility value. On closer inspection, illegal price-fixing is going on – illegal in most parts of the world, anyway.
As of this writing, one bitcoin is trading for 142 US Dollars. Readers of this blog will remember that I estimated the endgame value of one bitcoin, if the currency succeeds, to be between 100,000 and 1,000,000 US Dollars. That estimation still holds.
However, today's valuation is equally off the charts. Most people, when discussing bitcoin's value, still seems to just look at its trading price when determining its value. As I estimated today, that's not where bitcoin's value comes from. It is a transactional currency. As such, its value is – or can be estimated to – its market share of transactional currencies, multiplied by the size of that market (about 75 trillion US dollars).
UPDATE 4: FOCUS ON PART TWO
As I was able to document what's normally illegal trading practices, I tried to quantify their impact on the exchange rate by dividing the price into utility value, speculation value, and price-fixing value. That turned out to be a mistake, horribly imprecise, unnecessary, and irrelevant. Ignore the napkin ballpark calculations below and focus on the documented price-fixing further below instead; that's the news brought to the table here.
Over the past weeks, I have estimated this number again – but rather than estimating the endgame market share, I have tried to dig up the actual numbers today, to see what the actual size of Bitcoin's transactional currency market is. This value leads us to a tangible value of the bitcoin money supply, and we can use this value to see if there is a discrepancy against bitcoin's exchange rate. (There is, by more than two orders of magnitude.)
Drugs, gambling, and… not much more
In calculating the value of a transactional money supply, the concept of money velocity is crucial to understand. It's how often a money unit changes hands. The more often it does, the smaller the total money supply needs to be.
For example, most readers here probably – like me – spend all their paycheck in the month they get it, or close enough to "all" for all intents and purposes. This means, that if we each make 3,000 euros in a monthly paycheck, every one of those euros changes hands 12 times per year; they are on a one-month lockdown cycle. Let's assume we're 20 people in the economy. That means that the money supply can be 20×3,000, or 60,000 euros in total. Yet, the total yearly production and revenue in the economy is 12x20x3,000, or 720,000 euros. With this, I wanted to demonstrate how the size of the money supply is related to revenue/production by the factor of velocity.
Let's look at gambling. If you buy a scratch-off lottery ticket one month and win 10 euros, you probably spend those 10 euros that month without thinking more about it. Likewise, if you lose 10 euros on such a ticket and they go to somebody else, you don't care. Money in gambling – at least instant gambling – is not in a lockdown cycle and does not contribute to the minimum size of the money supply.
This becomes important as we look at the different economies making up bitcoin today. There are about 11.7 million bitcoin in circulation today. Out of these, a staggering 2 million bitcoin are gambled every year on the SatoshiDice site alone, and another, PrimeDice, 1.5 million.
To put these numbers in perspective, if translated to the global economy, it would mean that people bet the entire production of the USA at one single betting site, and the entire production of Europe on another.
But as we have seen, these numbers do not contribute to the money supply pool in any meaningful way in a functioning economy. They are not funds in lockdown, or at least not for more than a few minutes. For all intents and purposes, the velocity of internet-based gambling money is infinite, or at least so much larger than other funds that it can be discarded.
That leaves us with drugs, read Silk Road, and for lack of a better word, normal products and services. A recent estimate says that Silk Road has two million USD in monthly turnover. This is real money that contributes to the money supply. A fair estimate could assume a two-month lockdown on such funds.
What about normal products and services? To get a ballpark understanding, I contacted Automattic (the parent company of WordPress) and asked politely if they could share how much revenue they have received in bitcoin, being one of the highest-visibility brands ever to accept bitcoin. The answer came quickly – "a couple of hundred dollars worth, so far". If the highest-visibility brand accepting bitcoin has had less than two bitcoin in revenue in total, then for all intents and purposes, there is currently no measurable bitcoin economy outside of drugs and gambling.
This gives us enough data to calculate the value of the money pool, and derive the value of one bitcoin from there. If Silk Road has 22 million USD in annual sales, let's be very generous to err on the safe side, and divide that by the United States' money velocity, which is 1.67 on average instead of the 6 estimated above.
This generous estimation gives us a total bitcoin money supply value of 13 million USD.
Oops.
The observant will note that this estimation of bitcoin's total money supply value, while obviously a ballpark number, is less than two magnitudes smaller than the bitcoin money supply's current valuation of 142 USD x 11.7M bitcoin = 1.66 billion USD.
Dividing this value with the bitcoin supply to get the current value of one bitcoin, this means that the current value of one bitcoin, as backed by exchange of products and services in its role as a transactional currency, is roughly one US dollar and twelve US cents. And that's still a generous estimate.
Oops, again.
It's not hard to see why I use the words "vast overvaluation", seeing how one bitcoin is currently trading at 142 USD. So how did we get here? Part speculation on future value, obviously, but there is something else going on too here. More interestingly, when looking very closely at the market for the past two months, there is ample and obvious evidence of price fixing.
[UPDATE: As pointed out, these back-of-napkin calculations did not take into account bitcoin-mining equipment sold for bitcoin, which can be debated if it's really an external economy, but regardless, the overall observation of a major discrepancy still stands.]
[UPDATE 2: As pointed out by Jon Matonis and others, Automattic's WordPress bitcoin revenue turned out to be not representative. The BitPay clearinghouse has an annual bitcoin-economy turnover of about 60 million USD equivalent. That changes the ballpark utility valuation of one bitcoin to (60M+22M) / 1.67 / 11.7M = about four US dollars. The revised data still supports the conclusion strongly.]
[UPDATE 3: A lot of people have claimed that this calculation only takes into account bitcoin's value as a transactional currency, and not its use as a store of value. It does factor in the store-of-value value, but perhaps that wasn't clear from the article. You'll notice that the money supply value is calculated as total production divided by average USD velocity, assuming that USD velocity is a ballpark benchmark for all a currency's uses, including as a store of value.]
Enter the tape-painting "Shark Squad"
In securities trading, the expression painting the tape is used for any trading activity that is intended to manipulate the trading statistics (price, volume, other metrics) rather than to execute a trade. It is highly illegal, jail-time illegal, in all civilized parts of the world. The expression comes from the ancient price ticker tape, and how it could be "painted" with false data.
I'm going to illustrate how this Shark Squad has operated recently to fix the price in luring other traders of their money and hiking the price. (While luring other traders of their money is part of the game, there are legal and illegal ways to do so. Insider trading, for example, is one of the better-known illegal ones – our legal framework generally fights hard to create a level playing field for all traders.) The squad is a small team of collaborating traders.
In Step 1 of the cycle, the shark squad makes a large buyup, causing prices to skyrocket. Illustrated here, the buyup at 10:00 European time on Thursday September 12, 2013, from USD 135 to 145.9, an instant 8-percent increase. This causes a lot of downward-betting traders to flush out.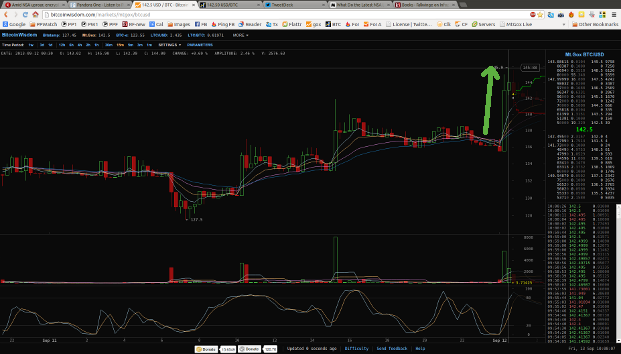 In step 2, the shark squad reverses this trend by causing a slow pullback, causing those who bought in greed to sell off in panic as the market has reversed and causing more stop losses to trigger and people to sell to the squad's bids. Note that I write causes a pullback – this is not a normal market pullback. Let's look at the big picture first as displayed by the site bitcoinwisdom, which displays much more detail than most sites. You can see the pullback over Thursday lunch-to-afternoon (blue box, right half), and there is also a display of the current order book (yellow box) and the recent transactions (red box) which we will look at shortly. Note how the recent transactions in the indicated red box are all red, red, red, indicating a massive selloff – there's nobody buying at all on cursory inspection, only selling, and a lot of selling.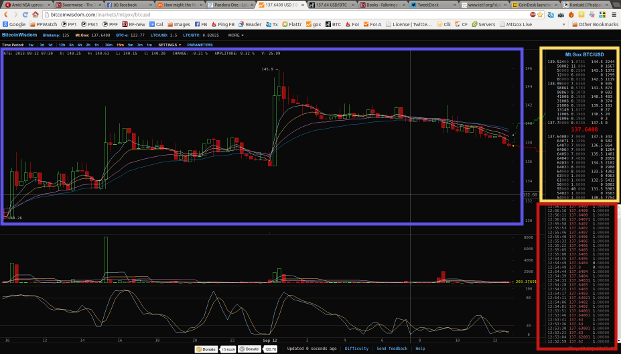 However, let's take a closer look at the minute details of the recent transactions in the bottom right corner, displaying time, price, and amount of the last bitcoin transactions:
Do you see a pattern here? All the transactions are for exactly one bitcoin, and the transactions are spaced exactly five seconds apart. This pattern can continue for hours, a claim verifiable by checking the MtGox transaction history. This is not market trading; this is one (1) automated process intended to give the illusion of many different players panic-selling. Furthermore, let's take a closer look at the order book: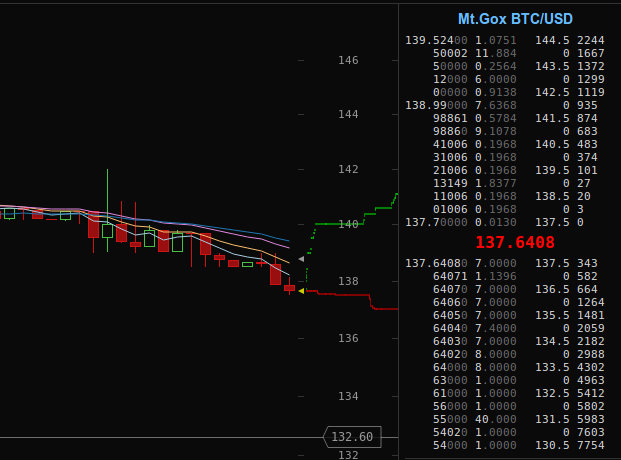 Do you see the numbers below and to the left of the current big red price? That's the bid order book. That's the current buy orders. Note how the currently executing buy orders are at 7-8 bitcoin each, placed just 0.0001 (!) bitcoin apart in price, evading detection on most sites. This is coordinated with the selling person. Those buy orders keep replenishing as the sales orders keep ticking one bitcoin per five seconds; they are coordinated. This is one person in the Shark Squad selling to another person in the Shark Squad, to give the illusion of market downward pressure and sell volume.
Both of these activities – splitting an order to give the illusion of many trades, and trading within a group to give the appearance of increased volume and a certain market direction – are considered painting the tape and highly illegal. (I'm going to stop writing "usually illegal" now, as it's illegal in practically all countries where you can read this.)
So, how can I state with certainty that the seller and buyer are conspiring? Based on only this screenshot, the evidence could be improved, but having watched the market at this level for some two months and seen how these kind of buy and sell orders follow each other very closely, it's obvious there is talking and coordinating within a team dedicated to fabricating a market impression. Normally, you would need to see how they moved in lockstep to identify this cooperation, but it's particularly visible in this snapshot. (Besides, the visible order-splitting is enough to constitute tape-painting entirely on its own.)
Here's the kicker, then: we have observed that the buy orders being executed – the ones with 7, 7, 7, 7, 7, 8, 8, etc. bitcoin at the moment at a price of 137.64xyz – belong to this shark squad. What happens when a trader sees the (false) image of a massive selloff going on, and sells in panic? Well, he's selling his bitcoin into those buy orders to the shark squad, at the price they have set. Here, the price is 137.64. So the obvious question is, what happens next? Well, a fabricated price hike, of course, tricking other traders to buy those same bitcoin at higher prices from the coordinated shark squad. We'll be returning to when and how that happens in step 4.
In Step 3, the shark squad puts up an enormous bidwall – so large it's effectively a lid on the market – and lure other traders to sell into it, intending to sell the bought bitcoin at a higher price after the next fabricated hike. There is plenty of fake trading going on into these bidwalls as visible in step 2. We can also see that this lure is effective – look at the transaction history of bitcoin around these walls, and you can easily find trades of hundreds of coins amid the fake trading. Or perhaps it's the shark squad selling to itself again with the transactions in the hundreds. Hard to know – most likely a mix of in-group trading and others being lured to sell. In any case, unsuspecting traders are selling into the shark squad's bidwalls. These lurewalls are easily identifiable in the close-up market history, as well as when they were removed: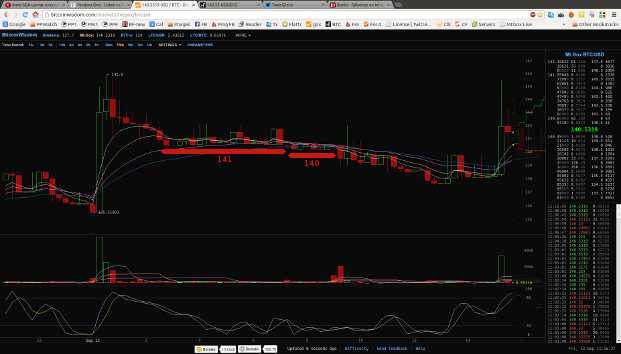 In Step 4, finally, the price is hiked to new highs and the shark squad begins offloading its booty at higher prices, and the cycle repeats with them trading in-between themselves to give the appearance of market activity. That price hike happened at 15:25 Thursday, European time, up to 145 USD for this cycle, as also visible in the image above.
This cycle has repeated very visibly at least five times in the past weeks, and likely since much earlier in a variant version: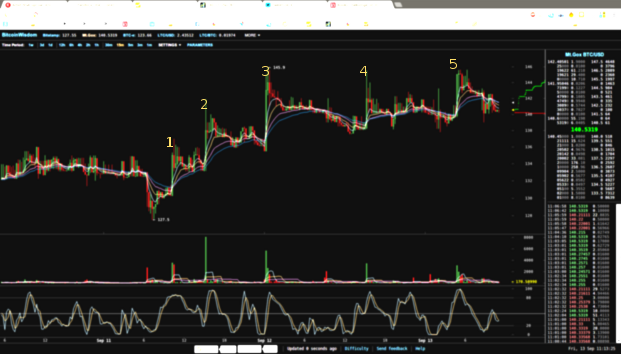 This – this illegal activity – is very troubling for the bitcoin ecosystem.
A final note on legality
I have written "illegal trading activity" all over this article. For many bitcoin enthusiasts, the bitcoin market's unenforceability of governmental rules is a feature, not a bug. This is a truly free market, with all the good and bad that comes with it. Also, it is hard to really know if this shark squad is located in a civilized country or some warlord place like Somalia without any functioning legal system at all. Maybe they're on international waters. Maybe in Low Earth Orbit. There's no way to know what jurisdiction, if any, they operate under. Therefore, the word "illegal" is kind of meaningless as applied to sanctions.
But for the most part, activities such as these are illegal for a reason – that we as a society have considered them to be cheating of some kind, a breaking of the social contract. This is what concerns me. Bitcoin is a fantastic technology with an enormous potential for disruption of old incumbents I dream of dropkicking out of existence.
Bitcoin must survive.
That's why I'm concerned over the irony of the net generation, which has spawned a number of anti-Wall-Street movements and sentiments, to see people in this generation intuitively picking up trading practices that carry on every bit of foul legacy that offline traders have practiced before the net generation. It seems the more things change, the more they stay the same.