The United States is an Orwellian nightmare, and I don't mean because of the NSA. Over decades, we've destroyed the difference between the words "government" and "state." This linguistic trick has made it impossible to truly understand what either of those words mean, or to realistically challenge the status quo.
The history of what's now called "Libertarianism" in the US is rich with language-twisting and thought-constraining propaganda. The term "libertarian" itself is even a corruption of its original meaning. It had been used since 1858 as a synonym for "anarchist" — that is, belonging to the socialist, left-wing, anti-private-property anarchist movement dating as far back as Proudhon. This changed around the 1970s, as the right-libertarian founding father Murray Rothbard boasted in 1979:
One gratifying aspect of our rise to some prominence is that, for the first time in my memory, we, "our side," had captured a crucial word from the enemy…"Libertari­ans"…had long been simply a polite word for left-wing anarchists, that is for anti-private property anarchists, either of the communist or syndicalist variety. But now we had taken it over…
This was the point at which capital-L "Libertarianism," the right-wing aligned ideology of extremist individualism, antisocial paranoia, and a religious devotion to the gods of the market, came into its own.
Rothbard went on to say that this was more proper, because "we were proponents of individual liberty" and not the anarchists. To further make this point inarguable, the US Libertarian Party founder David Nolan created his famous chart: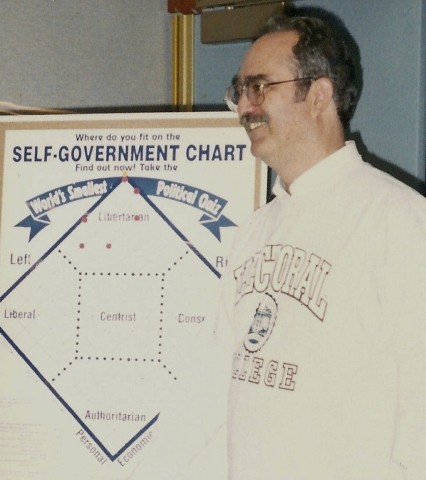 The chart was sold as a more nuanced alternative to the one-dimensional political spectrum, because this one had two spectra: how much personal freedom you advocate, and how much economic freedom you advocate. The "left" were branded as advocates of personal freedom and not economic freedom, the "right" as advocates of economic but not personal freedom, but only the Libertarian Party advocated maximum personal and economic freedom.
The implication, of course, is that if you disagree with the Libertarian Party, you must hate freedom.
Nolan followed in Rothbard's crusade against traditional libertarian socialism: there's simply no place for it on his chart. Though classical anarchists identified with the left-wing of their time, it's reductionist to say that libertarian socialism is opposed to "economic freedom." But it certainly disagrees with the Libertarian Party definition of "economic freedom," which is the freedom to own property and be an asshole about it. Alas, the chart's accompanying "world's smallest political quiz" takes the existence of private property, corporations, employment, and current social structures as a given. Anyone thinking outside of that paradigm is given a choice to advocate "freedom" and be branded a neo-Libertarian, or be against "freedom" and be branded a liberal.
It wasn't enough to say that critics of Libertarianism were against freedom. As Libertarianism bled out from its fringe party and flowed into the mainstream right-wing of the Republican Party, rhetoric against the idea of "government" shot up. No longer content to criticize "the state" like the anarchists and libertarian socialists of old, the Libertarian right wanted to get "the government" out of their lives. First laws, rules, and regulations, but soon anything that even sounded like it could be somebody telling you what to do, all became "big government."
Even as David Nolan and the Libertarian Party advocated for their own form of "self-government," the idea got away from them and mutated into the monstrosity it is today.
To criticize "the state," meaning an entity which has a monopoly on the legitimate use of violence in an area, is now interchangeable in the United States with criticizing "government." Even when you drop the "the," and refer to the abstract idea of "government," the right-wing Libertarian way of thinking prevents any opinion but universal distrust and disgust.
In the US, "the state" and "government" have been newspeaked into the same word. We can't have a reasonable discussion about how people can achieve self-government anymore, because right-wing Libertarianism has made the idea of governing anything taboo. If you're for government, you're an authoritarian socialist, and you can't be a libertarian. If you're against war and the police, you also have to be against food stamps and social justice. If you start talking about governance without the state, nobody can wrap their heads around what you're saying. Make any reference to "the state" and people wonder if you're talking about Louisiana or California. Because those are states, right?
Anyone who's truly studied or paid attention to how communities operate in a stateless society knows that government is happening. Rules, codes, and standards of behavior — even if they're unwritten — get enforced all the time in any situation where human beings come together. People enforce "vernacular law," as David Bollier calls it. This is because government isn't an institution, an organization, an entity, or any kind of single, concrete thing. It's a process. It's something we do, like science, dancing, magic, justice, warfare, or art. "The government" should rarely even be a grammatically correct combination of words.
Discussing that concept — the idea of people governing themselves, without the iron fist of the state — is essential for any realistic plan to achieve real, actual liberty for all of humanity. This was the ground first tread by the anarchists and libertarian socialists of the 19th century, and that tradition is being continued today by commons scholars, the alter-globalization movement, Pirate Parties, indigenous resistance movements, radical democrats, and more. The idea of self-governance is still marginalized and has an uphill battle around the world, but in the United States, we barely even have the language left to express it.