Swarmops is approaching launch. This is the back-end software that allowed the Swedish Pirate Party to beat its competition using less than one percent of their budget, but now generalized for any organization's use – business or nonprofit. It's also the only software in existence to do bitcoin-native automated accounting and cashflow.
I believe that adding shiny happy blinking gadgets isn't the crucial thing to make an operation competitive: instead, it's removing the old painful obstacles that makes the big difference to competitiveness.
When I founded the Swedish Pirate Party, I had a simple philosophy: the many people shouldn't have to deal with pain points at all. If there was anything boring and painful, it would be touched by as few people as possible. There was no organizational software that met this simple principle – instead, all back-end software seemed to require the many people to do as much work as possible for the accountant. Just creating an expense report was usually a nightmare.
So I started writing the back-end software for the Swedish Pirate Party myself. It turned out to be absolutely instrumental. (To reclaim an expense in Swarmops, you upload a receipt, fill in its amount and what it's for, and that's it.)
Along the same vein, I wanted decisions to be made as far out to the edges as possible, where the most tactical information was. As long as everybody has bought into the overall vision, the best decisions are made at the information sources. There was no software for this either. Swarmops does that too.
This software turned out to be absolutely instrumental in allowing the Swedish Pirate Party to win in 2009, despite having less than 1% of the budget of the competition. The philosophy – in management, organization, and software – had literally made the organization two orders of magnitude more cost-efficient.
Lawrence Lessig famously stated that Code is Law. I'd say it is much more than that: any organization is confined to what its internal processes can handle. The processes determine what must be done, and what can't be done. And those organization processes are usually determined by very old-fashioned back-office software. Conversely, those who don't have the painful back-end accounting and bookkeeping can't do simple but powerful things like delegate budget responsibility or refund simple expenses.
I set out to change that.
Writing accounting and activist/personnel software sure doesn't sound very sexy. Then again, neither does expense reporting. Despite that, Expensify was a company that set out to remove that pain point from organizations with the simple mission of making expense reports not suck. It's now a dominant player.
There are many of these old problems lying around that we just don't consider because we take the pain they bring for granted, and get all giddy when we see new shiny things instead. But removing that pain from an organization is what gives it speed and agility – not to mention let the energy go toward the organization's mission instead of to old-fashioned pain.
(There was even an insanely successful Kickstarter campaign for more efficient shoelaces the other month. Imagine that. Anybody who says there aren't any old pain points to solve is simply wrong.)
[youtube h0bvdFwY2Ls]
So what does Swarmops do?
Swarmops enables tens of thousands of people in an organization to cooperate with little friction, and is geographically aware to boot, so you always have local points of contact. Those people can be volunteers, members, whatever. "Participants."
Swarmops decentralizes authority to the edges of an organization, where the best decision-making information is available.
Swarmops makes accounting not suck by automating it and doing it all in the hidden background. It was never rocket science anyway.
Swarmops makes an organization transparent by providing real-time data on its health to everybody in the organization. No more waiting several weeks for the quarterly statement. This is realtime stuff.
Swarmops does bitcoin-native cashflow on full auto.
If this sounds familiar and I've spoken about some of it before, it's because I have. It's the administration system for the Swedish Pirate Party, which was absolutely crucial in allowing us to decentralize to the point where we became the biggest party in the most coveted demographic, despite having less than 1% of the competition's budget. At that point, it was known as PirateWeb, and was a strictly internal tool.
Some two years ago, I started generalizing it under the name Activizr. However, I realized that in order to make it usable, there would need to be a whole lot of back-end work – installability, maintainability, getting rid of proprietary packages – before that could happen. That's what I've been doing since I first mentioned Activizr, now Swarmops. Now it installs with a standard apt-get, and loads all its data as needed.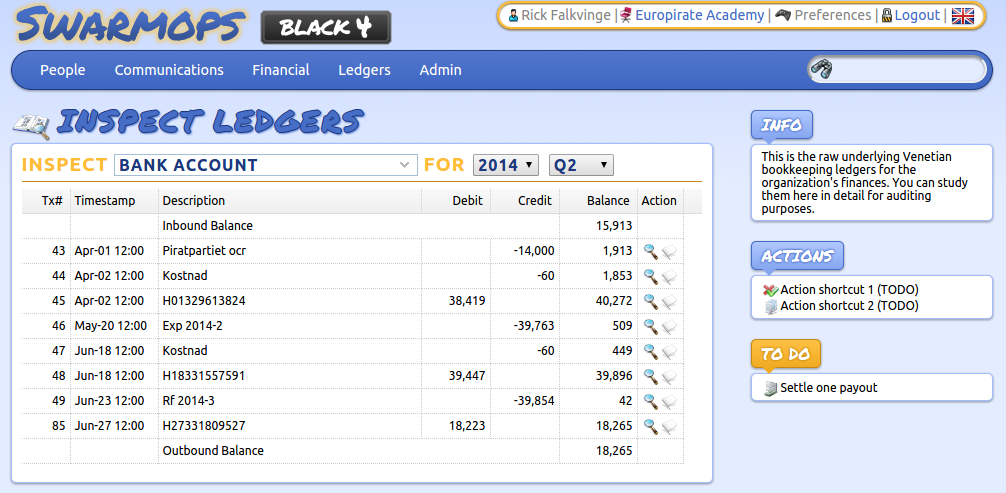 But I can't do this alone.
I've been taking this to baseline production level. Now, this needs to scale up if it is to complete and go from good to great.
It's getting decent attention, but development is going too slow, and Swarmops needs a richer skill set. In particular, I'm not a UX engineer and usability is absolutely key to take a system like this from good to great. (As is mobility, but that's on the roadmap.)
There's a crowdfunding going that will enable Swarmops to go from good to great. And yes, of course there are perks for contributing.
Do take a look at the development sandbox to get a feel for it! All the data there is reset every night, so play away. The Swarmops code is also available on Github, and needless to say, it's public domain.
At this point, Swarmops needs:
Pilot installations. There are a few organizations wanting to take Swarmops for a test drive, and more are welcome. It needs exposure to the famous "real-world conditions".
Developers developers developers. The code is on Github and any contributions are welcome. Most development is in JavaScript and jQuery, with minor additions to a C# backend.
Funding! The case for going from good to great involves getting some full-time support staff, and design! Do visit the ongoing crowdfunding and consider pitching in?
Design and UX. Going from good to great, or even from useful to great, requires design and usability skills in amounts that Swarmops has not had access to.
Do you want to be a part of this? There's a group on Facebook named Swarmops Developers – drop on by!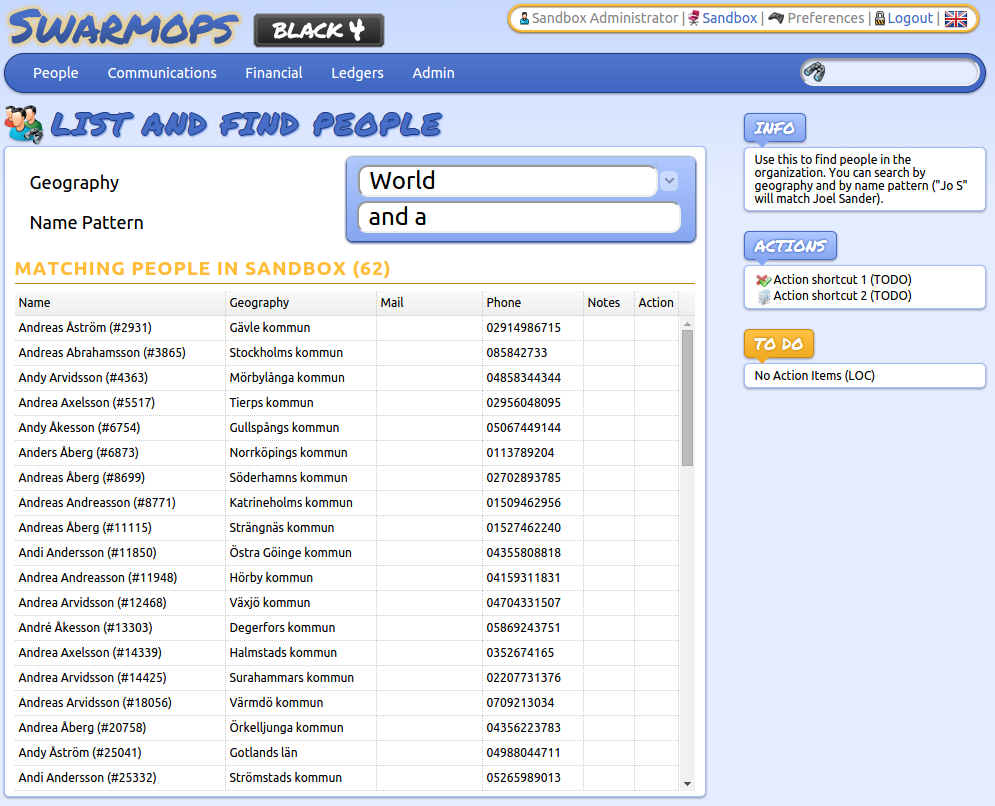 You could see Swarmops as the software counterpart to the book Swarmwise.
Photo by Anna Jumped from the German Piratenpartei's General Assembly.