The cartoonists at Charlie Hebdo did not deserve to die. As a believer in free speech, I'm now supposed to go beyond that sentiment and lionize them as martyrs, fearlessly expressing themselves and standing up for the principles of freedom. I can't do it. I will mourn for their deaths but I will not glorify their hate speech.
I will not defend the people who murdered the staff of Charlie Hebdo. Those murders were completely unjustifiable. I will mourn the dead because they are human beings, and I'm sure that they were loved by their families and were, in many ways, good people. But I refuse to make the slain cartoonists into saints for the one thing they most clearly did wrong with their lives: their racist, witless work which had no redeeming social value other than to spread hate.
The attack on Charlie Hebdo was a calculated, strategic move not intended to avenge the honor of the prophet Muhammad, but to fan the flames of Islamaphobia and racism. To incite good-intentioned, predominantly white Westerners into gleefully sharing racist and reprehensible caricatures masquerading as "satire" was exactly what the terrorists wanted. Because most Muslims — especially French Muslims — aren't interested in terrorism. In fact, one of the police officers killed in the crossfire was a Muslim, but the attackers didn't care. Muslim collateral damage was the point. The terrorists believed that Muslims will become a lot more interested in extremism and be easier to recruit, if we take the bait and begin to treat them with hate.
Says Jacob Canfield:
Charlie Hebdo is a French satirical newspaper. Its staff is white. Its cartoons often represent a certain, virulently racist brand of French xenophobia. While they generously claim to 'attack everyone equally,' the cartoons they publish are intentionally anti-Islam, and frequently sexist and homophobic.
I mean, look at this shit: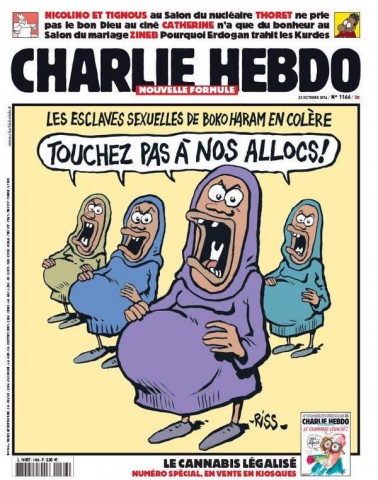 That roughly translates as, Boko Haram's sex slaves are angry — "Hands off our child benefits!" Yes, it's a cartoon asserting that women sold into sex slavery and bred like animals by a Nigerian terrorist group are welfare queens. That pretty much sums up the tone of Charlie Hebdo's "courageous" "satire." It exists for no reason other than to reinforce a widely-held bigotry, an advertisement that reminds us to "be racist!" instead of "buy Coca-Cola!" A reminder that absolute free speech applies to vapid, lazy hate speech, which nobody needed to be reminded of. This is the kind of crap we're supposed to be exalting as freedom fighting.
It's disappointing to see more talented satirists coming to the defense of Charlie Hebdo's lazy work out of sheer reflex. It doesn't even have anything to say beyond hate. Even South Park, that sacred cow of nothing being sacred, tends to refrain from pointless insensitivity when you really critically analyze it, and it's even gotten downright progressive in regards to marginalized groups recently.
We boorishly push the billions of peaceful, non-violent Muslims to condemn the extremists who tarnish their culture, and to apologize for their religion and race (and no, saying "Islam is not a race" when you're talking entirely about brown people is bullshit). If Muslims are supposed to apologize for people who turn their religion of peace into a religion of hate, then why isn't there an onus on us to condemn people who use our religion of free speech to spread hateful things?
Yes, that's right. I called freedom of speech a religion.
The way hate speech apologists talk about free speech isn't all that different from religious fundamentalism. To them, free speech is a dogma to uphold out of a pious, idealistic duty, and it's almost as esoteric as some aspects of Islam. They champion the idea that even the most reprehensible, hateful screed is to be defended and protected, that even appalling callousness and ignorance is defensible. They ignore the reason why freedom of terrible speech is protected.
It's not that it wouldn't be a wonderful, amazing, fantastic thing to rid the world entirely of hate speech. It's that we can't do it without causing more problems than we solve. We can't come up with a consensus on where to draw the line between truly toxic hate that will contribute to pseudospeciation and convince people to engage in discrimination and violence, or harmless insensitivity or a simple misunderstanding. When hate is so deeply ingrained in a culture that people can be racist without knowing it, some people can engage in hateful speech that reinforces discriminatory ideas without even realizing it. So we refrain from legally punishing hate speech — fining, imprisoning, or executing people — simply because we'll never be able to come up with a legal framework that doesn't cause collateral damage.
That's another thing: freedom of speech is a legal construct. There's a reason why you can be banned from a comments thread for being an asshole, or fired from your public-facing job for making reprehensible statements, without having your freedom of speech violated — free speech is specifically a freedom from being punished by the state for your beliefs and expressions. Maybe you could argue that extralegal institutions, like online forums, social media, or employers ought to strive to replicate the principle and idea of free expression. But sometimes people want to be free from your speech too, and that's why at smaller scales in private settings, that option is left to our individual discretion.
But let's not forget the historical context that birthed freedom of speech. Freedom of speech was never about your right to shout "fuck" in a public place, or to make fun of somebody of a different creed or color than you. Freedom of speech was about your right to criticize the state, the authorities, and other officials who would otherwise have the power to imprison you. Freedom of speech was created to defend speaking truth to power, not to defend punching down on people with less power than you. We begrudgingly allow hate speech as an escape valve,
And this is why I really, emphatically cannot defend Charlie Hebdo's racism and xenophobia. Hate speech is in no danger. Violence against it is so rare as to be newsworthy. It is not being threatened. It does not need to be defended.
Western Islamophobia is mainstream. Defending Charlie Hebdo's cartoons is the safest, least subversive position one can take. It is like making a principled stand for ice cream. Everybody loves ice cream. You're not a hero for standing for it. What Charlie Hebdo ostensibly stands against — terrorism and violence motivated by a perversion of Islam — is a stance that is literally as popular as ice cream. You are going to have a very, very hard time finding a significant number of people in the West who will tell you that Islamic extremism is okay, even if the only people you ask are Muslims.
The uglier ideas that leak out from Charlie Hebdo's cartoons — the orientalist caricatures of Muslims that deliberately mark them as "other," the ignorant and inaccurate portrayals of laziness, ignorance, and barbarism — these ideas also need no help. Muslims, even those who are only Muslim culturally and don't practice or study the faith much at all, face hate and discrimination in the West every day. Their dietary restrictions and prayer rituals hurt no one; their attitude towards women is more nuanced than blanket "oppression," and many wear hijab and identify as feminist; they are by all measures perfectly ordinary people who just happen to have a different religious and ethnic background than most Westerners. (In fact, in France, "Muslim" is often used as a politically correct term for disparaging people of Middle Eastern and North African descent regardless of how religious they are) They are the victims of a widespread, mainstream irrational hatred, and if anyone's freedom is at risk and in need of defense, it is Muslims'.
In 2013, after a massacre of Muslim protesters in Egypt, Charlie Hebdo had this to say: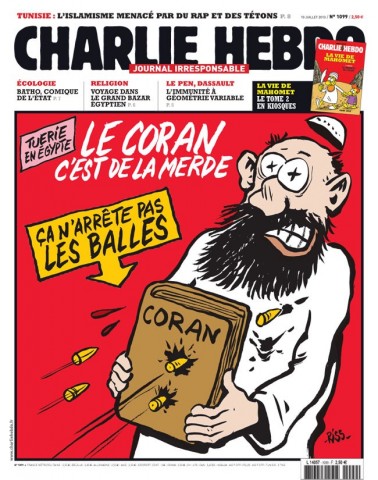 "The Qur'an is shit. It doesn't stop bullets."
Today, a Muslim paper has yet to draw a cartoon saying that the the Declaration of the Rights of Man doesn't stop bullets. Because that wouldn't be funny.
Asghar Bukhari further contests the idea that this is harmless fun:
The elites narrative was simple, a left-wing magazine, had produced 'satirical cartoons' about all religions and politicians, some of them about the Prophet of Islam — Only the Muslims took offence (subtext because their backward barbaric religion was alien and intolerant).
Imagine today's spurious and conceited argument being used by the Nazi's — could a German newspaper hide behind the claim it also made fun of white Germans? How unjustified that only the Jews complained so! After all Germans didn't complain when they were made fun of — those backward Jews and their greedy religion didn't understand free speech!
I'm going to keep flirting with Godwin's Law here — itself turning into an anti-intellectual device used more to stifle criticism and discourse than anything else — and quote an eloquent series of tweets from activist @ThatSabineGirl:
Last year a neighbour threatened to kill me, I had to move. Civilization doesn't need to fall far for trans [people] to be in serious danger. This is why publishing hate speech, creating online spaces that feed it is so dangerous. 'Free speech' people defend our dehumanisation, and marginalised people will be the first to suffer, while liberals say 'Well nobody saw it coming.'

Liberals who defend hate speech need to come clean about their reasons for doing so. It's not high minded 'free speech' idealism. We know that, because liberals are among the first trying to silence the impolite speech of marginalised people. Liberals value hate speech more highly than the speech, or even the lives, of marginalised people. Witness 'liberals' gleefully distributing racist cartoons and shutting down discussion of their racist nature. Their actions speak louder than their 'free speech' bullshit words.

The real attacks on free speech will soon come. It'll be attacks on the speech & association of Muslims, & any other groups they can tie on. Meanwhile the racist caricatures in the media will continue, and probably get worse. Public shaming of Muslims is already occurring, in form of demanding they prostrate themselves in apology & contrition for their religion. We know where this leads.

Marginalised [people] & 'SJWs' are already being made out to be inferior, while being caricatured as having influence and money. Sound familiar? The scapegoating is already long underway. Marginalised people are singled out, made out to be external threats rather than just oppressed citizens. The 'workshy', the disabled, the left wing, are being demonised and blamed for the suffering the [government] is inflicting on the people. So anyway, that's how fascism happens, so let's avert it instead of going headfirst towards it, yeah? People talk about Nazi Germany as if it just happened, and nobody saw it coming. People saw it coming. They were just silenced and ignored. People didn't speak out. Hitler didn't do magic, he didn't hypnotise his supporters. He gave them the scapegoat they wanted, a people who were already hated. And what are politicians doing now? They're giving you scapegoats, people you already hate. Us. [Paragraph breaks mine]
This is the deep irony of hate speech apologism — the fact that treating "freedom of speech" with the same bastardized fundamentalism as Islamic extremists is leading us in a dangerous, fascist direction. In beating the drum of what they call "freedom," apologists for hate speech may end up brining about the authoritarianism they claim to hate so much. All's well if it doesn't harm them, perhaps.
Perhaps extremists who claim to uphold free speech have the right to one sense of superiority over extremists who claim to uphold Islam: the speech extremists don't literally kill anyone. This reminds me of Randall Munroe's position on free speech:
I can't remember where I heard this, but someone once said that defending a position by citing free speech is sort of the ultimate concession; you're saying that the most compelling thing you can say for your position is that it's not literally illegal to express.
Congratulations on not literally taking a Kalashnikov and shooting anyone who disagrees with you. Do you want a cookie?
This monstrous massacre was not an attack on free speech. In the wider sociopolitical context, it was a strategic retaliation for violence by Western governments, for decades of Muslims around the world being made into an underclass who were subjected to bombings, invasions, resource theft, and systemic humiliation. The attack was targeted not at anyone who dropped the bombs, but instead at people who instead cheered for them. That's not excusable. Murder is not the appropriate response to hate speech, and it's unlikely that had they instead killed someone more directly responsible for the deaths of Muslims that it would have helped anything either. But this was an incredibly rare attack. In the grand scheme of things, the freedom to be racist and the freedom to marginalize is under no threat. The only freedom in true need of defending is the freedom to be outside the mainstream. I fear publishing this article more than anyone should reasonably fear publishing an Islamaphobic cartoon.
Why did so few newspapers around the world dare print a Charlie Hebdo cartoon on their front page? Maybe it wasn't out of fear. Maybe it was because they weren't very good cartoons.
It goes without saying that nobody deserves to be murdered for drawing a shitty cartoon, though.